D's day started early (very early) but brilliantly. She was in a very cheerful mood before school, cracking lots of jokes which were funny to her and we laughed along too because it was great to see her anxiety-free and …laughing!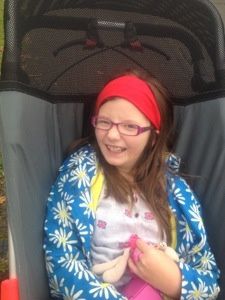 This was her in big buggy on the school run, full of mischief!
She went off very well with her TA too, which was great to see. Lovely to walk away knowing that she was happy, makes such a difference.
D was happy when I collected her too, full of chat about what their class are doing for Children In Need (I hope that link works):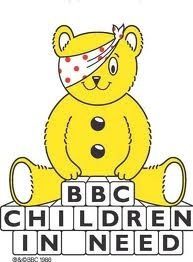 Things deteriorated as soon as we got home. Her favourite reading book at the moment is "Captain Underpants" (which T also loves) and (this sounds silly but) as soon as she saw one of the cats, she said "oh Itsey is such a nerd". I know this has come from the book and – bearing in mind she got very upset last term when repeatedly called something similar by a classmate (and nothing was done about it) – I couldn't let this pass without (gently) explaining to her that that wasn't a nice or polite thing to say either to someone or about someone. D had a complete and utter meltdown, both downstairs and up in her room. I was very careful not to be critical when explaining but it wasn't taken that way. She eventually calmed down and between tears said that she wanted to "throw herself in the bin" and she was "broken-hearted". All very difficult to watch and hear, lots of reassurance given.
And later on this evening, she's been a happy girl again. Phew! We definitely do run the gauntlet of emotions at times.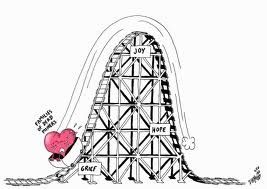 But I wouldn't have her (or our T) any other way.
I hope everyone's had a good day, comments/RTs/shares as ever welcomed, thanks for reading Jx 😘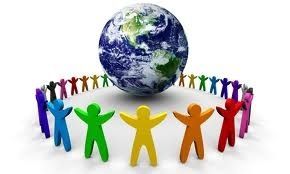 ---
---