D seems to be preparing for Christmas at the moment, bless her. She's very partial to a Kinder Surprise egg after school and since they've bought out Christmas ones, likes those. "Chocolate eggies" as they're known.
Yesterday's "eggie" contained a tiny Santa Claus and overnight that went into her "my little pony" sleigh and she's fashioned coloured pipe-cleaners into a (sort of) reindeer shape, with a little box as a present All incredibly creative and done very early this morning.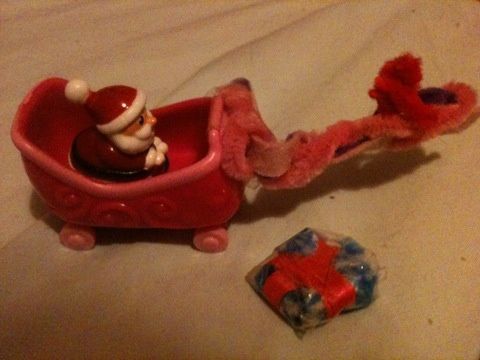 This little ensemble went to school this morning, together with good old Bunny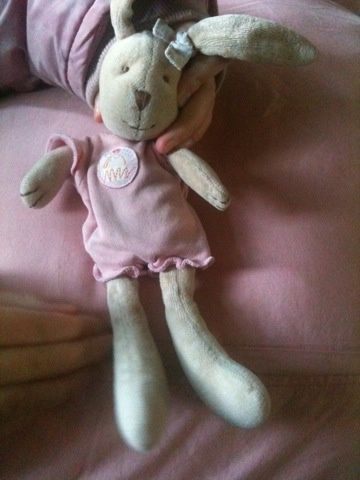 It was going really really well and D arrived at school very positively until a young adult had a very loud, shrieky moment in Reception, they were very excited to see someone and as a consequence, D bolted out of surprise and anxiety through a door, very closely followed by a TA. Obviously these things happen, it is a special needs school after all but the way D reacts to unexpected noises/events always takes me by surprise. I guess in time she'll learn coping mechanisms to deal with the unexpected? Hope so.
She was pleased to see me at the end of the school day, she saw her friend on the way out, they waved and said goodbye (so cute) and then she went past in her school transport and they waved at each other again. This was after D refused to wave at another child because he was "a bit hitty sometimes".
The Christmas prep theme continued at home, she's decided she's making Christmas cards at arts & crafts club on Saturday! She's a lot more prepared than her Mumma, that's for sure!
Swimming at school tomorrow, which brings its own anxieties but *fingers crossed* that all is well.
I hope everyone's had a good day, comments/RTs/shares as ever welcomed, thanks for reading Jx 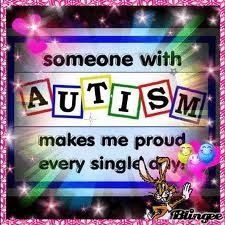 ---
---