It was T's birthday yesterday and one of the things I wanted to do was upgrade his Nintendo 3ds to an XL version.
T and D enjoy playing on their 3ds consoles, especially "Face Raider" – the 3d effect is always turned down low – but I was concerned about the size of the screen.
Both their standard 3d consoles are under a year old and the trade-in value per 3ds console at Game – if you're buying goods in part-exchange – is £86. It's less if you just want the cash (about £20 less).
What they don't tell you in advance is that you must trade-in with a charger (or buy a charger at £10), which seems a bit daft to me as the Nintendo 3ds XL does NOT come with a charger as standard.
Here are the comparable pictures, the blue one is the 3ds XL, the red one is the standard size: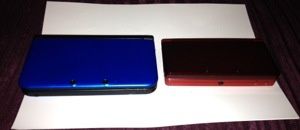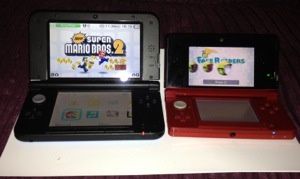 The screen difference is pretty impressive side by side.
My next step is to upgrade D's sometime before Christmas, as part of her Christmas present. But, so that we don't lose another charger to the trade-in, I've just ordered a charger from Amazon £2.27 with free postage. Simples…
---
---