Our little man hit double figures today. T's birthday, he's been counting down for such a long time – months, weeks and then hours, minutes and seconds!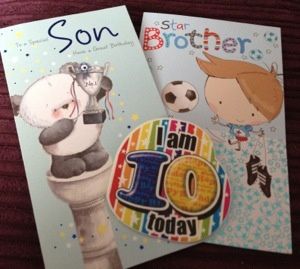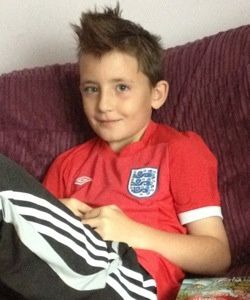 He's been a cuddly, happy chap today. Delighted with his gifts. He loved all his Twitter birthday wishes too, thank you 😘😘
He was very into the cycling during the Olympics and Paralympics, so his main present was a TeamGB bike and helmet. D got her brother the TeamGB scalextric, which is very funny to use – get the pressure on the controls wrong and they fly off the track! It definitely appeals to the competitive element to T too.
We all went for lunch in a "Miller and Carter" in town, big buggy successfully negotiated its way in but by the time we came to leave – and the restaurant was busier – it was a lot trickier to get out.
T and D did really really well during the majority of the meal, we were in a booth so no bolt-potential and they're both very familiar with the menu. Here's the birthday boy with his supply of "Match Attacks":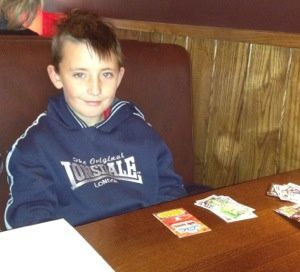 D had a few meltdowns when we got back, she was fine with the scalextric noise this morning and laughed away at it, but this afternoon it's been too much. She's wanted to "leave" a few times and only bear-hugs have helped once she's calm. Whether it's the fact that she knows it's been T's birthday and not hers, or holding it together during lunch – there was a couple of times when I thought "oh oh, she's on the verge". We have also had anxieties from both of them about going back to school tomorrow so that's probably a factor too.
So, I guess we'll see what tomorrow morning brings. T's enjoyed his day but I can't believe how fast the last ten years have gone by, I wonder what's in store for him in the next ten?
I hope everyone's had a good day, comments/RTs/shares as ever welcomed, thanks for reading Jx 😘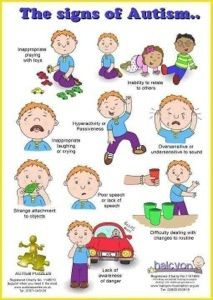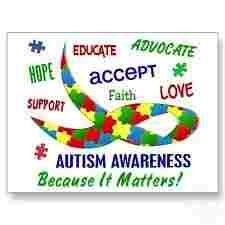 ---
---