Poor D's anxieties carried on this morning before school – mainly concerning the fact she'd have to do more writing in her "news" and that she has a class museum trip on Wednesday and this potentially means leaving Bunny at school.
There wasn't a lot I could do, apart from reassuring her that I would talk to her teacher on both counts.
Our school run was going well – we'd looked for the cat we always see, the "leaf zone" and various slugs/snails (urgh) – until D realised she'd dropped Bunny 😱😱😱😱😱😱. So we had to retrace our steps until we found a very lonely-looking Bunny on the pavement, ten minutes back. D was absolutely distraught whilst we were looking and once she had Bunny back, all the anxieties over the museum trip spilled out too, poor little poppet!
We were by now late but I took it slowly to school as wanted D to calm down.
Eventually we got to school and a TA rather hurriedly collected her so I managed to explain why we were late but not raise the other issues – the handwriting one was written in her diary.
I went away feeling anxious about her day. Then did some thinking, then got
cross.
I asked for a clinic appointment for D back in January – it's in December! One of the things I wanted to raise was my concerns as to whether D also has dyspraxia (please click on the link for more information), it would account for some of her motor issues. When I had originally asked for the appointment, I mentioned to D's (then) teacher about dyspraxia and she said "that's a new one, I've heard of dyslexia"! It sometimes (well, lot of the time) feels like SN parents really have to challenge and seek out information because it is by no means readily available and then find a GP who will listen. Rant over, I needed my Motivational Monday post to get me back on track – and it did!
I was quite apprehensive about how D would be when I collected her, but she was fine, phew! I guess because – like previously – she'd had her anxieties as they arose, she was over it (unlike her Mumma!). Nothing in her diary about handwriting – grr!
So, it's been a nice afternoon, both T and D have been watching Captain Underpants on YouTube and tonight D and I screeched along to her favourite song "Firework" by Katy Perry.
A definite roller-coaster day, I wonder what tomorrow will bring?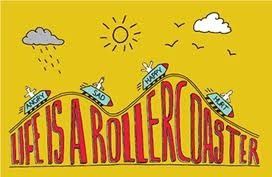 I hope everyone's had a good day, comments/RTs/shares as ever welcomed, thanks for reading Jx 😘
---
---