Today is a really good example of the roller-coaster ride that life with autism is.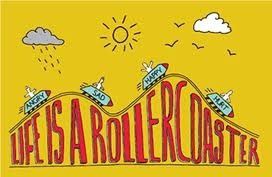 The walk (or in D's case, buggy ride) to school went really well. Lots of snail and slug spotting; D saw the cat who always comes and says hello to her and we went through the "leaf zone". All was brilliant.
Then we got to school. The main doors were closed and there was a TA frantically pointing to the other doors, with someone shouting out "no, don't use them, come through here". D just couldn't handle this unexpected change and started to bolt in the car park. At the same time class groups were coming out to go on their trips so…lots of people, too many people around for an already anxious D.
This is when I thought a notice might have been good, something visual that says "use other door", rather than someone doing sign language from inside.
It turned out there was a "situation" in Reception.
So, I eventually got her through the other doors and someone said "you can take her down to class" – another change as she's normally collected.
There was obviously something about this morning because another "situation" started down the corridor where we were meant to go and once again D was getting extremely anxious and wouldn't go past. Someone suggested we took a long-winded detour through a part of school she's very unfamiliar with and I decided enough was enough and told them D was already very anxious, we'd just sit and wait the second situation out, around the corner, out of sight of the poor young adult who was having issues.
In the end, the second "situation" rectified itself with the young adult getting up and being led away but a little bit of risk-assessment and forethought could have saved a lot of anxiety this morning. I don't know if visitors were also expected but a notice advising them to use the other door would be better than someone frantically indicating the alternative entrance – or may be that's just me!
I went away wondering how much of that anxiety would be carried over to this afternoon for D and hoped it wouldn't be too much.
(by the way: the rant above is not me being selfish and purely thinking of D, I feel for the two young adults/children who were melting down so publicly. I felt it could have been handled better)
As it turned out, D had an okay day. Maybe the fact that she could let the morning anxieties out as they happened helped. She was fine, tired but okay.
This evening has been okay too, she played nicely with T on the trampoline (and vice versa) and has been fascinated by an advert for a Twister dance game fronted by Britney Spears
..or Spitney as she called her. I think it was the dialect in the advert, D heard Spitney and that's what she has decided her name is. It's very cute to hear her singing along and trying to do the moves too.
All settled now and a new day tomorrow, I wonder what the roller-coaster will bring!
I hope everyone's had a good day, comments/RTs/shares as ever welcomed. Thanks for reading Jx 😘
---