We're all still in "Snuffle City" but it's been a good day!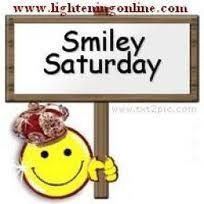 Hubbie and T went off to their football matches – T playing in one and then watching a local game – D and I went to see Madagascar 3.
I chose the earliest time possible and carefully chose our seats, thinking no-one would be next to us..wrong!
D coped very well with that and the fact that the sound wasn't working through the trailers.
The actual film was very, very good. Just as good as the first two films. A highlight for D was her favourite song (Katie Perry's Firework) and this was played amid some wonderful cartoon graphics – D was completely memorised.
Her first question, once the film had ended was "when can we get the DVD?" so a definite hit and recommended for the half-term holidays. Bizarrely I've just read that's it's available on DVD in USA before it's officially released in the UK!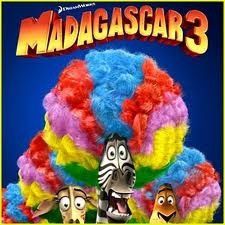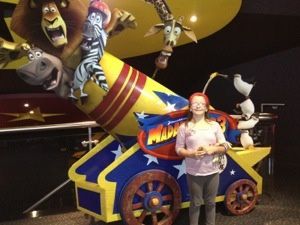 The picture above is D in front of the display in the cinema foyer.
Once the film had ended, we had lunch in MaccyD's hoping for a Madagascar Happy Meal toy, but it was still Spongebob. Disappointing bearing in mind they are advertising the toys on the TV.
Town wasn't too busy, the intermittent (very) heavy rain was keeping people away I think.
We did see something that really shocked me though..A man was with his (must have been) 2-3 year old girl, she wanted to go on the ride-ons, he said no, she had a tantrum. He picked her up by one arm and carried her like that towards the escalators and then she was still being hoisted with one arm, knees bent onto the escalators. Still screaming but more out of fright now I think. It wouldn't have taken much effort to pick her up properly instead of the almost-pull-arm-out-of-socket. Other people noticed too but just went about their business. When we are out T and D's safety is my priority, it should be the same for any child with their parent.
D's been telling Hubbie and T about the film, she's still really animated by it. Although we both weren't 100% I'm glad we went, the fact I'd prepaid for our tickers had some bearing too. This is a picture she did for Hubbie, showing two of the characters: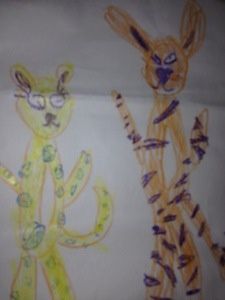 So, the weather and the film contributed to making it a good day. Had town been a lot busier then it probably would have been a different post!
I hope everyone's had a good day, comments/RTs/shares as ever welcomed, thanks for reading Jx 😘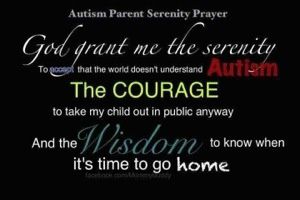 ---
---