It's been a good-ish day today. D's back is much better and T is still snuffly but perkier.
It was Arts and Crafts club again for D, organised by Mencap. Unfortunately the numbers weren't brilliant today – 2 children – but this meant that the 2 that were there got plenty of assistance and attention. I was sitting in the cafe area a few doors down and could hear D laughing away, it was lovely.
I knew she'd have a good time as soon as she went in. The table was full of conkers and different coloured autumnal leaves – D was overjoyed. There was also a squash there for them to draw, both children were fascinated by its shape, texture and weight. Here is D's squash picture: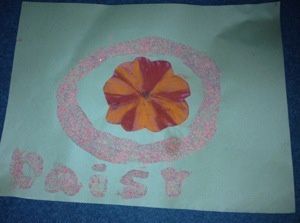 She also did some colouring – again they were very impressed by her keeping within the lines: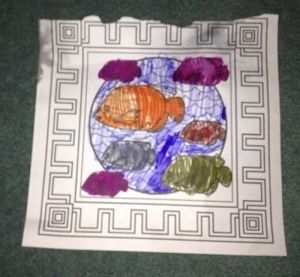 And a drawing of a key that she's taken to carrying around with her: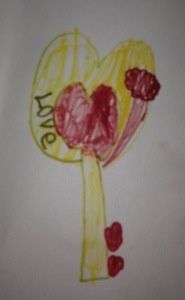 The staff are getting used to D now and starting to recognise the signs for when she needs to take a step back from an activity, she really enjoyed it today. Next one is in 3 weeks.
After that, we hopped onto a bus into town as there wasn't a direct bus home. Again, it was very busy and I once again tried to imagine all the sounds and smells that D was coping with.
She did very well until she wanted to see an interactive display which was being put on promoting a sweet company. We were well back from the crowd but still able to see and she was fine until an old lady started talking to me and telling me about someone she knew with autism. D got out of her buggy and started walking away, very quickly through the crowds so I had to dash off after her. When I caught up with her, she said that she doesn't like people talking to me when we're out. It wasn't the specific conversation I'm sure, because if we stop to say hello to anyone on the school run she'll start rocking and making moaning noises from the buggy. A tricky one! I guess D just sees it as we're going from A to B with no interruptions, nothing should get in our way. Unfortunately life isn't like that all the time.
We were both happy to be home and the harmony continued until Hubbie and T got back. T's team lost today so he wasn't really in the mood for being considerate to his sister, he's extremely competitive (and that is under-playing it!)
Both now settling, hopefully both will sleep well. Very grateful for my "pack" as we used to call them – there's only 18 months between them and they were my little shadows when toddlers, very cute.
I cannot imagine what the family of April Jones are going through, there's people on my TL (timeline) saying "RTs aren't going to find her", well, yes that's true BUT it shows those that are sending out her picture/messages are thinking of her and supporting her family/friends from afar and that can't be a bad thing, surely.
I hope everyone's had a good day, comments/RTs/shares as ever welcomed, thanks for reading Jx 😘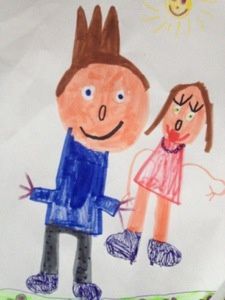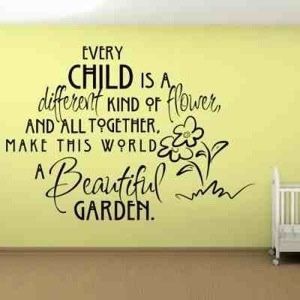 ---
---