I guess like most people "of a certain age" this week, I've watched and listened to the ever-increasingly damning evidence about Jimmy Savile and shuddered.
He was the man that 80's memories were made of, with "Jim'll Fix It" and his bizarre presentations of Top Of The Pops.
To find out that this man – who millions idolised – who raised so much money for charity (and made sure everyone knew about it), who was photographed with royalty, was destroying young girls innocence and leaving them too scared to tell anyone is horrific. AND those young girls were from a school for "disturbed" individuals so, chances are, they wouldn't be believed anyway…words fail me.
Like millions of other teenagers, I wrote to "Jim'll Fix It", I wanted to meet my favourite band and sit next to that iconic red chair, everyone did. I remember sitting in my bedroom composing a letter, next to me was my best friend, also writing to him. Neither of us heard back…thank goodness, I guess.
I saw him in person once. I used to live near Crowthorne – where Broadmoor is located. An institution for the criminally insane, whose inmates include the Yorkshire Ripper, and one of the beneficiaries of his charity efforts. I remember I was in a newsagents – must have been about 12 or 13 years old – and he came in, all track suited, gold jewellery jangling away and a cigar hanging from his mouth. Despite the fact I knew this was the man who could "fix it" for me, I hid behind a card display. I remember that uneasy feeling very very clearly.
Something instinctive or shyness? I don't know but having listened to those poor women, all telling their very similar encounters and the blind eyes that seem to have been turned – even by Esther Rantzen (who established ChildLine) I'm glad I did.
I'm guessing there will be more and more revelations in the weeks to come. I really hope those women who were brave enough to come forward are listened to, taken seriously and whatever is needed to help them move on from this, is readily available.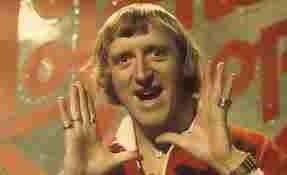 Thanks for reading.
19th October:
Email on front page of "The Times" today which indicates that the BBC were aware of allegations of abuse: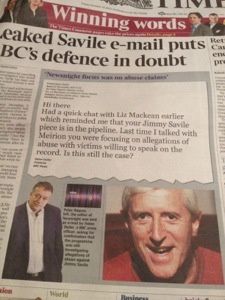 ---
---