I was asked if I'd provide a few blogging tips, I've only been doing my blog since January but have found it's been a benefit to both myself (avenue to rant and vent occasionally) and (I hope) to others.
So here goes…
Research which blogging platform you want to use. If you feel you will be blogging on your phone/iPad more than a laptop/computer then make sure there is an app for it. One of the reasons I chose WordPress is that I can blog anywhere (signal permitting). My evening blogs are usually started in the bath (on my phone) because it's peaceful there!
Make sure your "about" page is completed and up-to-date. If someone is visiting your blog for the first time, it's where they'll find out about you and the reason you blog.
Similarly, if your header includes a "just another WordPress (or similar) site" change it to something more personal to you and why you're blogging.
Most blogging platforms come with free themes, take some time to choose your theme. Make it appropriate to your blog content. For example, blogging about your childcare establishment with a skulls and crosses background might look funky, but it will detract from your content.
Use pictures and images, they add interest to your blog but…
Remember that once a post is published, it's out of your control. Yes, you can delete the post but it might have been seen and shared before you do. Therefore, consider the pictures you put on and how you would feel if they were used inappropriately. For similar reasons, my children are referred to by initials only.
And…
If you are sharing content/words from another site, be sure to reference them. It's not only a matter of politeness, not to do so is plagiarism. I have had whole chunks of a post replicated and set up as another person's Facebook page before, it really upset me and the person doing it completely denied it. Not a nice experience.
If you say you are going to do a daily/weekly/monthly blog then stick to it. Once you are blogging regularly, you build up an anticipation. But at the same time…
Don't let it become a chore. Blog because there is a purpose and you enjoy it. If you become tired of blogging it will reflect in your words.
Make sure your terminology is correct, so that no-one reading your posts is offended.
Acknowledge when people RT (retweet) or comment on your blog, it's polite. It shows that you appreciate them taking the time to do so.
Proof-read your post before you hit "publish". An absolute must if you are blogging at the end of the day. It doesn't take long and that typo is very quickly corrected.
Be careful of your wording, try not to use words that could bring the wrong readers to your site – for example (and I'm spacing these out)
n a k e d
p o r n
b a t h
s e x etc
Don't get hung up on your blog stats. Everybody leads busy lives and publishing a post during a major event (ie 100m Olympic final) means it won't be read very much, republish again in an hour or so.
Be truthful to yourself. Blogging has an anonymity to it but only to a degree.
Clear out your spam comments regularly, don't give them another thought and definitely don't click on any links!!
Add in the "share" buttons so readers can share to twitter/Facebook etc.
Hope this helps, please feel free to add in your own tips/comments.
Thanks for reading Jx 😘
Updated with some comments/additional tips below:
"once you've built up a reputation as a blogger, look at hosting your own site. Get your web domain and be creative. You can still use WordPress to blog, but instead of hosting with WP, you host off your own site. It also means you can have a web email address dedicated to your blog and looks great especially if you want to turn your blog into a business" – Becca
"use widgets on your site, it allows users to share, follow your twitter feed and there's lots of other cool stuff too.
Also, join a blogging group ie. BlogHer, they will reference your blog on their site and you can interact with other bloggers.
For mums and parenting try BritMums" – Becca
"comment on other blogs and link to other blogs as much as possible, that's when the networking side of things really start to build" – Nicky
"don't get too bothered about what other bloggers are doing. Focus on creating your own identity and do what is comfortable for you. Also I'd recommend people take time to comment on as many other blogs as possible as this will help them to get known in the blogging world. It can also lead to more comments on your blog" – Deb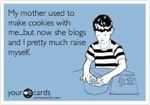 ---
---