Yes, we had the return of anxieties today. They were anticipated as, like Wednesday, there was a change to the school day.
Today was "dress like a pirate day"! Luckily D had worn her stripy top before to school so it wasn't unfamiliar but there was still a lot of refusal around getting dressed and going because she knew what was happening at school.
Once we'd dropped T off, we stopped at the park for D's 10 swings and I let her have slightly longer there in the hope that she'd go into school happy.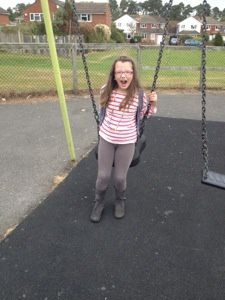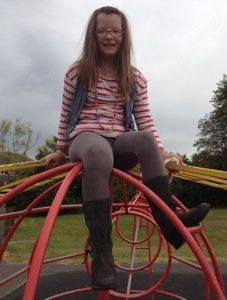 It worked – up to a point – and we practised the joke she was going to tell her class:
What's a pirate's favourite shop?
Arrrrrrrrr-gos!
All seemed okay but as soon as school was in eye sight, the anxieties got worse. She told me she didn't want to
go in, didn't want to be a pirate, didn't want to be at school, wanted to go home etc etc.
Eventually we got to reception and her teacher arrived – dressed as a pirate – and the refusals and silent treatment started. I left D sitting on the floor with the teacher assuring me that she'd be okay and walked away with a very heavy heart.
Yo-blooming-ho and all that!
And wouldn't you know it, my little *ahem* D was fine when I collected her. She'd sung the songs, participated in the treasure hunt and made a boat and a pirate hat! Proudly carrying her booty from the treasure hunt (chocolate coins) which were demolished once we got home. Very very tired though.
So this evening has been about trying to keep things calm, T was also extremely tired too after his school week and football training last night so it was a case of watching them closely and stepping in quickly before issues developed.
She did make me (inwardly) laugh though. D normally has a Kinder Surprise egg when she comes out of school – those 60p or so chocolate hollow eggs that have a toy inside them – but because she had chocolate coins, I conveniently forgot to give her the egg and she suddenly remembered later on. I reassured her that the egg was fine, no-one had eaten it and she could always have it tomorrow. Then she was saying "I can't stop thinking about that egg, my tummy is so hungry"! Sorry D, you can have it tomorrow (mean Mumma).
So, both settled; both having had a long week at school, both needing a good weekend.
I hope everyone's had a good day, comments/RTs as ever welcomed, thanks for reading Jx 😘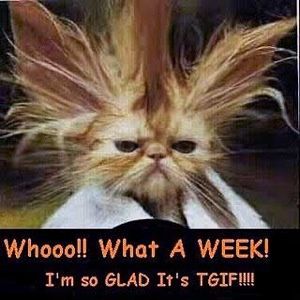 ---
---