The "realisations" in the title come from my earlier blog post of today. D told me this morning some of her experiences in her first school, which made me sad that she couldn't tell me at the time, cross that no-one else had told me but very relieved that she is happy in her school now. Very much a "swing and roundabouts" feeling.
🌸💐🌸💐🌸💐🌸💐🌸💐🌸💐🌸
The school runs went well this morning, T bouncing along beside me. He starts football after-school club tomorrow, which understandably he's looking forward to! D has been selected for golf after-school club at her school this week too, I hope she enjoys it.
D went in very well once we got to her school and I sent in her "homework" she'd done to check that I wasn't over or under estimating her abilities.
She'd had a good day once I picked her up and got a house point for doing her "homework". Her teacher said the level was ok (which made me feel a bit sad as it was kind-of Reception level) but (whether this is good news for D or not!) it has made her consider setting class homework every week along the lines of what they've been doing that week.
It was all going well at home until T and D had a bit of a scuffle and she sprained her ankle. Lots of tears (understandably) and then snuggle-time on the sofa and Ice Age 3 – her favourite film. Bless her, she's been using a shepherds crook to move around – a prop from a long-outgrown and never worn (because she had too many anxieties on the day) nativity play costume.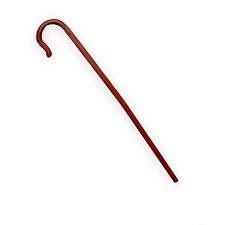 I'm not sure whether she'll be at school tomorrow or not, will have to see how her ankle is in the morning, at the moment it's doubtful. Poor D.
🚹🚺🚹🚺🚹🚺🚹🚺🚹🚺🚹🚺🚹
The picture below comes from our local "Primary Times", it's a quarterly autism parenting magazine. They are on twitter too at @aukids. I haven't been asked to mention or promote them, just wanted to share.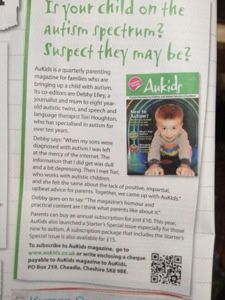 So, that's our day. Fingers/toes crossed for a good night. I hope everyone's had a good day, comments/RTs as ever welcomed. Thanks for reading Jx 😘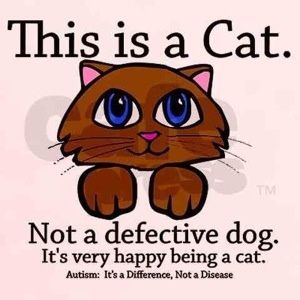 ---
---