If we are out and D is either overcome by sensory issues or her stranger anxieties, there is not time to explain to other people why she is acting like she is. She is not naughty, she has autism.
This is where this bracelet by "Allergy Kids" will come in very useful: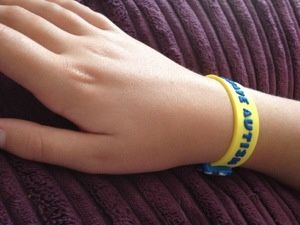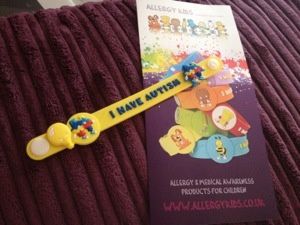 The bracelet is very eye-catching and colourful. As well as being adjustable, it is also latex-free. The writing is very clear for people to see and will definitely get the message across that the wearer has autism.
As well as the writing on the bracelet, there is a jigsaw character on there, D also has a balloon character on her bracelet to indicate that she also has a latex allergy. The length of the bracelet is 17cm and is 100% hypo-allergenic.
Prices for the allergy/awareness wristbands are £4.49 with additional characters eg. autism, wheat, nut, hay fever, coeliac, dairy etc at £1.50 each. Multiple allergy bands and asthma wristbands are also available.
Please see www.allergykids.co.uk for more of the wristbands available, they are also on Facebook and twitter @allergykidsuk.
Disclaimer:
For the purpose of this review I received an "I have autism" wristband with additional autism and latex allergy characters.
---
---