We had such a good day yesterday, I was optimistic it would last through today…wish it had.
It started off okay, timing it just right to T's school so that we didn't have to do the waiting around in the playground. D has got into the routine of stopping at the park we then have to walk/buggy through and having "ten high pushes on the swing", she's very good, we count to ten pushes and then she'll wait for the swing to slow and we're off again.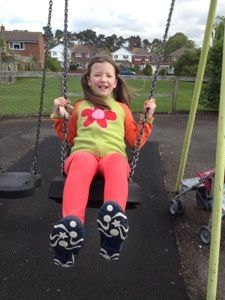 All was fine when we got to her school, she toddled off with her TA very happily. I'd reminded her on the way about the change to the afternoon routine and had written in her diary could they remind her too. All should have been okay….
It wasn't. I got to her classroom at the end of the day to find her rocking on the floor, very very distressed. We looked at the classroom clock and I showed her when the big hand and little hand were and said that I would be there every day at that time. D just wailed in response.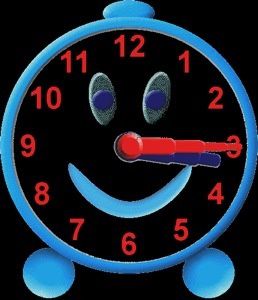 The wailing carried on all the way down the (now busy) corridor, lots of bear hugs, lots of encouragement given…it still continued.
I thought an ice-cream from the van would cheer her up and the man gave her THREE flakes as he could see how distressed she was. Did it work? Nope.
Onwards we trekked past two mainstream schools – you can imagine the looks, very grateful for sunglasses today – and still she wailed.
We eventually met up with T and then came a LOL moment. D was calm enough to talk about the change of routine and then she suddenly said "take me to the knackers yard!" – after virtually collapsing in near hysteria I asked her what she meant by that and T explained it's from a Goodies sketch! Oh my D, she got another bear hug for that!! What should have been a 15min or so walk took 45mins!
Both T and D were really pleased to see the new pool up but refused to share it (grrrr), D was calm enough to sit and read whilst first T had a go in it (swimming around, pretending he's an Olympian/Paralympian) and then D had a go once Hubbie and T had gone to football training. A definite success and it should be kitty-claw free.
So D is swimming around very happily, splashing away like the events of today haven't happened and internally my head is going "what, where, why, how" at a great rate. She can switch from wails to laughter so fast!
We've had a chat tonight about her day, she was able to say it was because she was scared of being left alone and the monsters in the corridor. So, if this change to routine is still not going well next week, may have to revert to old way. It's so difficult, she will encounter change in her life naturally and – I hope – in time, develop strategies to deal with them but if every afternoon is like today…no thanks.
So…today is a kind of 👋 and 👎 for us but a definite 👍 for the pool. Let's hope for some late summer weather. How's everyone's day been? 👍, 👎 or 👋?
Comments/RTs as ever welcomed, thanks for reading, please hit one of the many buttons below to share it if you enjoyed it (don't ask me what they all are though lol) Jx 😘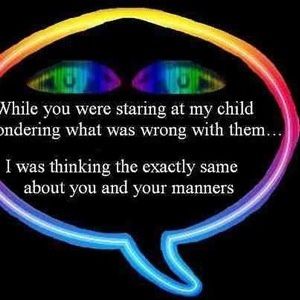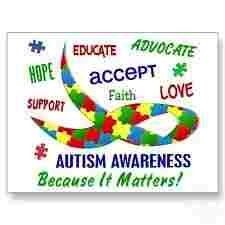 ---
---