Awwww, a lovely end to the day. D and I have had a relaxing end-of-day routine and she's been really chatty about her day. Proud of her tonight.
It wasn't a great start, for some reason we got to T's mainstream school early (again), D has very forcibly told me that we have to go slower tomorrow!
So we ended up waiting in the playground again. There were still children whizzing around everywhere and (would you believe it) jumping from the pub-style benches used for outdoor lunches. Jumping and bouncing from one to the other so much that you could see the benches bouncing too. The same parents taking no notice of their children's activities that had stared along with their children yesterday.
D went in very well with her favourite TA, I had written a note in the home-school diary about yesterday so went off wondering how the day would pan out.
Not very well for me as far as attendance on Early Bird goes, which is a requirement before any sessions with CAMHS. I'm not on the list, despite speaking to the woman who runs it in May. There's no record of me at all, and this includes the fact I phoned twice in the summer holidays! So…another 4 months wasted stuck in "the system" and for what? I don't know. Someone is calling me tomorrow apparently….
D hadn't come out by the time the doors opened so I went in to collect her. Had a good chat with her teacher and she explained the reasoning behind D being met by a TA in the morning and did apologise for no prior warning. We've agreed that I will pick D up from the classroom at the end of the day and that will give me a chance to chat about her day etc, also now have a list of her classmates – she is the only girl with 8 boys.
The other girls (who were all at least a year older) have moved to another class and another playground but D will have the chance to visit them and play – as she did today, which is good. D told me tonight that all the boys want to sit next to her! She's going to be popular!
This does raise concerns for me with regard to PE etc, but a quiet word should sort that hopefully.
It was only when I was leaving with D and mentioned T that D's teacher said that she has a high functioning Aspergers son, so the knowledge that she has personal experience of the spectrum and not just courses/books etc can only be an advantage.
So, I'm much happier than yesterday and D is too. She's happily answered gentle questions about her day and what she's been doing and was very happy that she'd had the chance to see her friends.
It's a definite 👍 (thumbs up) from us and the straw poll I did earlier seemed to indicate the majority of us have had a 👍👍 good day. Fantastic!
Another bonus for D is that Wednesday and Thursdays mean an ice cream from the van, she really enjoyed it today and the ice cream distracted her from noises/people etc around her: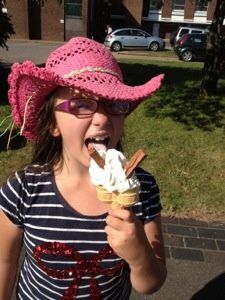 My autism awareness badges came today too, fantastic speedy service from the company – be interesting to see if they produce any discussion: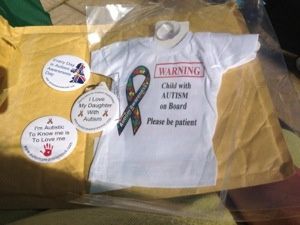 Thanks as ever for reading, comments/RTs as ever welcomed. I've added some more "share" buttons at the bottom, no idea what half of them are but ….press away, they're there lol Jx 😘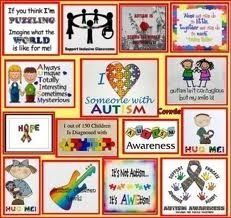 ---
---