It's been too wet to do our planned Paralympigs event outside today. The piggies would have got soaked and it wouldn't have been fair on them. They'd have sunk in the mud too. We'll do it tomorrow *crosses fingers & toes*.
Watching the Paralympics torch relay on the news gave me goosebumps. Amazing inspirational people who've overcome so much to take part. Really looking forward to watching some events once the Games get under way.
🇬🇧😃🇬🇧😃🇬🇧😃🇬🇧😃🇬🇧😃🇬🇧😃🇬🇧
We've had a nice day. We did have a child over to play, which hasn't gone down to well with D at times but she's done very well and withdrawn herself if need be, rather than getting cross/anxious.
The downside to having a Bank Holiday at the start of the week is that T's Match magazine (football, of course) is always delayed by at least a day. So, we had "letterbox watch" from about 10am, with T dashing out every time something came through the door – leaflets, taxi cards all sorts. Eventually it arrived *hurrah* and with it in the post *double hurrah* came "Friends" magazine for D, with these on the front: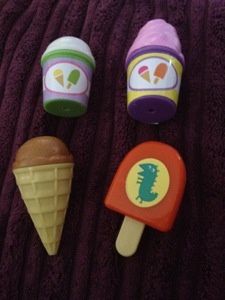 They were a Peppa Pig ice cream set, forget the magazine! She saw the magazine advertised and fell in love with the free gift so I ordered the mag online. It went down very well and she's very delighted (so delighted that I might have to get another copy in case any bits get lost).
She's loved the ice cream set today and even more pleased that she can interchange the top bits!
Awwww moment, she's also made these for me: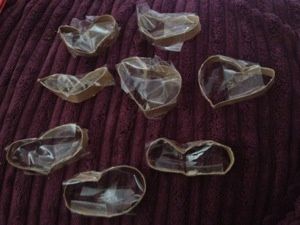 Lots of little hearts! So clever the way she's used (lots of) Sellotape to
make the shapes, love them.
She snuggled up and watched a bit of the Paralympics build-up with me, and we had a little discussion about the torch-bearers. I'm recording the opening ceremony so hopefully both she & T will enjoy watching some of it.
That's us.. A much quieter day than yesterday but thank goodness we didn't go to Taplow today, we'd have been drenched and the indoor areas would probably have been way too busy.
So many blog ideas, so little time until they go back to school!
I hope everyone's had a good day, comments/RTs as ever welcomed, thanks for reading Jx 😘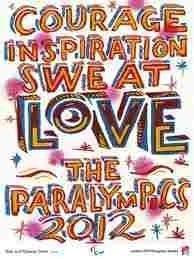 ---
---