We have had a fab-u-lous day today, I knew we would *beams*. We went to the Thames Valley Adventure Playground in Taplow (they're on twitter at @tvapSN). I've blogged about a previous visit – go to my blog menu and click on "A VERY special adventure playground".
D goes there a lot with school so she's extremely familiar with where it is, layout etc. We don't go as often as we should as a family, it's two train changes and heaving D's SN buggy over two railway bridges. You would think Network Rail would be more inclusive and "with it". I am lucky in that D will get out and go up the stairs whilst I'm lugging the buggy behind but if she was immobile, we wouldn't use trains at all. The (unmanned) stations have these "help" buttons you can press, but as if Network Rail are going to despatch someone straight away. Just doesn't happen. I know that the stations are old and in need of modernisation etc but…. (get on with the blog Jeannette!)
Anyway, it was a lovely day. Only slightly marred by the fact D got her hair pulled by another child in soft play. She screamed and cried, poor D. It was very hard explaining to her the reasoning for the other child doing that.
Here's a picture of soft play: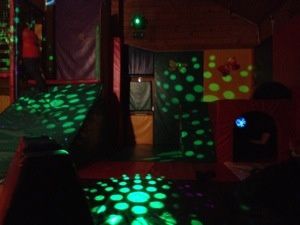 The weather was SO much better than yesterday so lots of outdoor fun: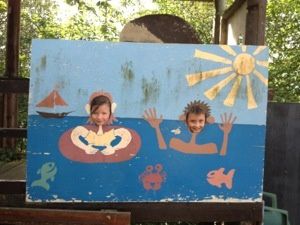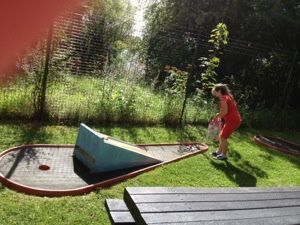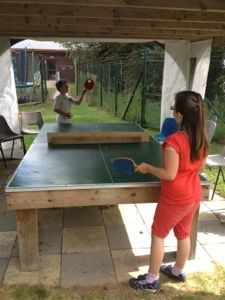 This is a puppet that D made, called "Mr Boy":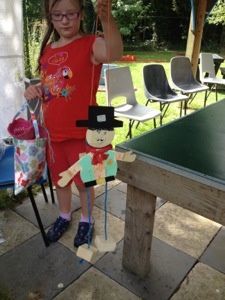 There was also sensory room fun: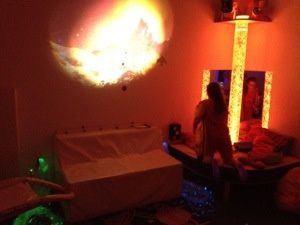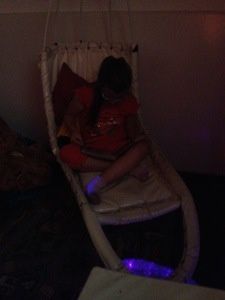 Watching the enjoyment that both T and D got out of soft play and the sensory room made me wonder about sensory rooms in the home. Can they be funded/grant obtained? Would be interesting to know.
D spent a lot of time in the crafts area today, a lovely tvap helper called Lucy helped us make a giant banana and strawberry. It caused a bit of a demand after that, with lots of children wanting giant fruit models, I think Lucy will be dreaming of fruit tonight!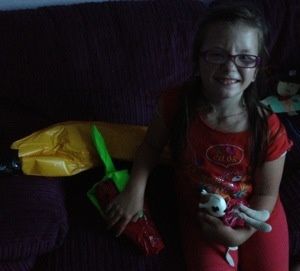 As you can see, D is absolutely delighted with her giant fruit! She's always liked plastic/wooden/fabric play fruit and veg, as well as eating the real thing!
The wonderful thing about tvap is that the fellow parents/carers who are there all know how unpredictable SN children can be, there are no stares, or tuts or comments. Everyone is there for the same reason – for the children and young adults to enjoy themselves in a stimulating, empathetic environment.
There were quite a few charity groups there today, staff to child ratio was very high, I think it might be something to consider for next summer, just to give me a few hours off. Six weeks is a long time!
When we looked back at the photos on the journey home, this was one of T and D's favourites, the jelly fish in the fish tank. They BOTH would like one now!
Oh and The Goodies went on again when we got back!!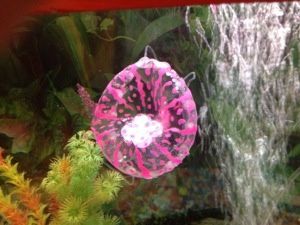 🐛🌸🐛🌸🐛🌸🐛🌸🐛🌸🐛🌸🐛
I will post a caterpillar picture tomorrow, not really much change from two days ago.
🌈😃🌈😃🌈😃🌈😃🌈😃🌈😃🌈
So, aching back aside (mine), we've had a great day. They both really enjoyed it. We will definitely be going back very soon.
I hope everyone has had a good day too. Thanks for reading, comments/RTs as ever welcomed Jx 😘
Tonight's final image is one that was at tvap, hanging in the parents/carers toilets lol!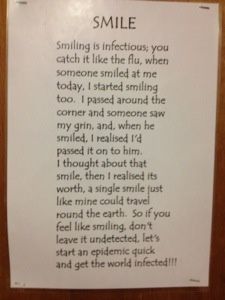 ---
---