Today we have been mostly watching "The Goodies"' D seems rather obsessed with them and their humour. They're slapstick and harmless, much like Mr Bean really. She was watching them whilst Hubbie & T were at T's friendly football match, then they came back and T wanted to watch, in between reading his Olympic souvenir booklet. So the Goodies theme tunes have been running through my head today.
D's been generating her inner Teletubby again, wearing her red onesie -like suit. I think because it's fleecy and snuggly it appeals to her sensory-seeking needs, even though it's not quite the season for it!!
There haven't been many pictures this week from D, but she did do this one today. It's of her and one of The Goodies, Graham Garden: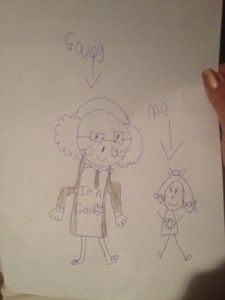 I love that fact she's put "I'm a Goody" on his t-shirt.
Here's the Goodies, if you haven't heard of them, well worth a watch on YouTube etc:
🐛🌸🐛🌸🐛🌸🐛🌸🐛🌸🐛🌸🐛:
After the cannabalistic fiasco that was the ladybirds (ladybugs), we had our next batch of caterpillars delivered today. Here are the teeny tiny little wriggles:
Caterpillar watch, day 1: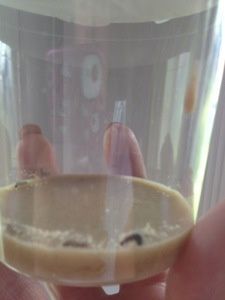 🍟🍔🍟🍔🍟🍔🍟🍔🍟🍔🍟🍔🍟
Assuming this weather clears up – its torrential at the moment – I'll be taking T & D out tomorrow to get their Olympic/Paralympic happy meal toy. Mix one child with severe stranger anxieties/autism with one who doesn't want to go out and..wish me luck!!
I hope everyone's had a good day, thanks very much for reading and hello to new followers, comments/RTs as ever welcomed Jx 😘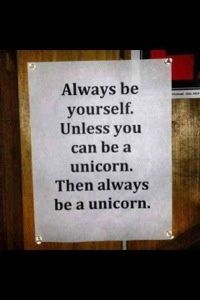 ---
---