"Tomorrow is another day" that's my mantra for this evening. It's not that often I start my blog feeling like the day hadn't had some good, positive moments to cling on to…but tonight is one of those times.
There's been about an hour of good times today – that's not an hour in one go, it's spread out throughout the day. And during one of those nice & peaceful five minutes, when things were going ok, I did think "they go back to school two weeks tomorrow, I will miss them". Things change very quickly as anyone who lives with a SN child will know and that thought was replaced with "roll on back-to-school time".
If it hasn't been D being upset by something (usually her brother), it's been T (vice versa).
They both have their own particular interests – T's is sport and football, D's are Bunny (good old Bunny), her playmobil people whom she likes to carry around and her "My Animal Farm" animals. Which is fine, but get them together whether in the pool or bouncing on the trampoline and one, if not both, end up frustrated and upset and I feel I need to split myself into two.
By the time Hubbie came home, I was very ready to start the evening routine, more or less an hour earlier than usual. D yawning almost as soon as her Melatonin was administered.
So….Scarlett O'Hara couldn't put it better:
"The last line of the American Civil War novel Gone With The Wind:
Scarlett O'Hara: "Tara. Home. I'll go home, and I'll think of some way to get him back. After all, tomorrow is another day"
(Random additional facts: This joins "Fiddle-dee-dee!" and "Great balls of fire!" as lines spoken by Scarlett O'Hara that have become commonplace in the language.)
I hope everyone's had a good day, comments/RTs as ever welcome, thanks for reading Jx 😘
My end pictures tonight made me LOL, hope you like them: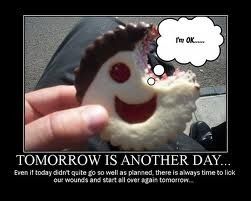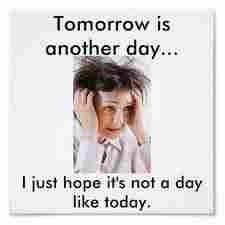 ---
---