I was recently sent a code for the See.Touch.Learn App by @BrainParade and was asked that D and I take a look at the App, below are our views.
The App is available in the App Store, its cost is £13.99/$19.99, which you might think at first is quite pricey but I would have bought this, had we not been sent a code. I found it a very beneficial App.
These are the first few screens: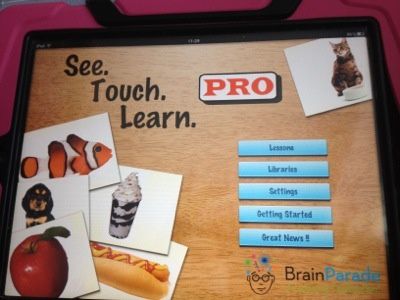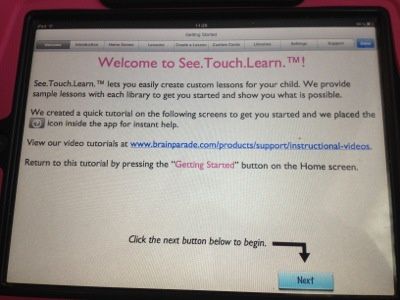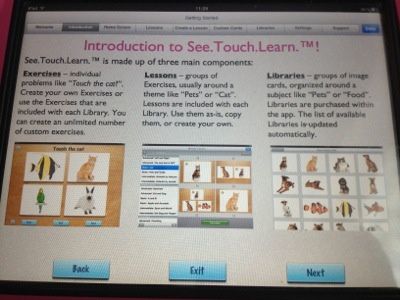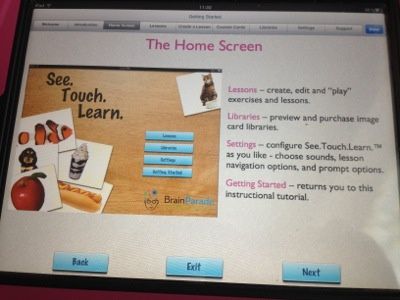 Click onto "libraries" and you have the option of downloading a lot more content. For example, D loves her fruit & vegetables (both to eat and as play food) so those were a welcome addition. Another one we will find very useful is "signs and safety". They are very easy to download and you have a chance to preview their content before you start to download. Updates are free once you have purchased the original App.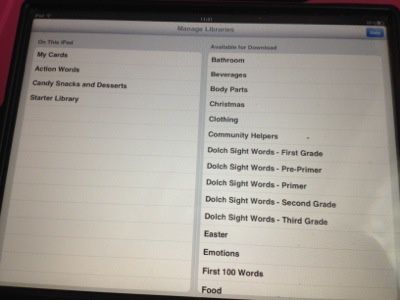 Once you have downloaded your content, you can make a start on the Lessons. There is the option of Basic. Medium or Advanced or customing the lessons.
The options shown below are "Advanced: Action Words" and "Advanced: ProNouns". I choose Advanced as I wanted to see if D could a) read the questions by herself and b) understand them (she's 8), she did very well and the possible answers proved a good talking point.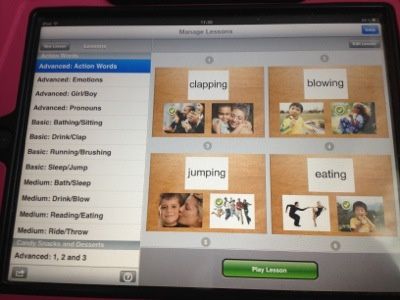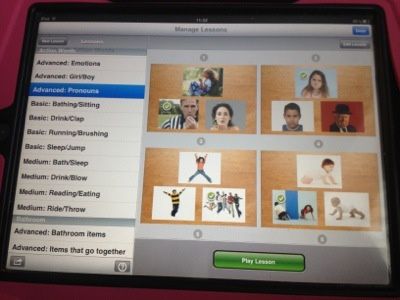 Here is an example of a question and its answer: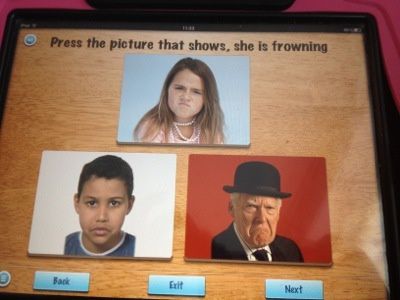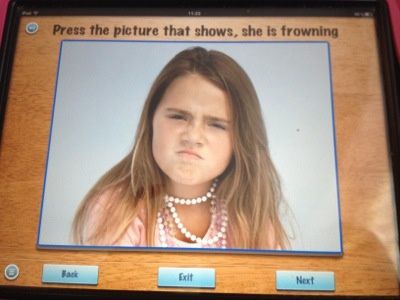 The photos really do illustrate the emotion and she did find them funny. Each lesson takes about two minutes so it's not too long that interest is lost.
Should you click on the wrong answer, the picture shakes and you can then choose again. A little sound (a bit like a parp noise!) will sound if the answer is wrong and the picture shakes, a correct answer gets a "ding". These sounds can be turned off/modified in "Lesson Play Controls".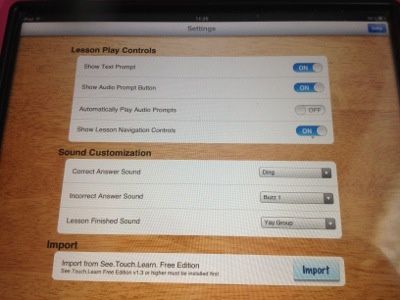 Once the lesson is finished, a screen shows the score, accompanied by a "hooray" sound: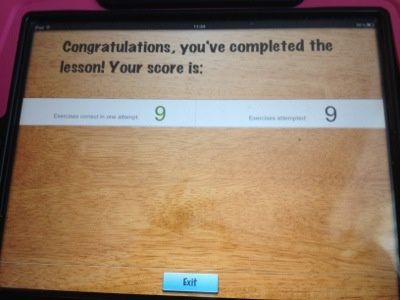 In summary, we are going to find this App very useful and the library and custom options mean that each lesson has the potential to be different and therefore interesting and challenging. Especially useful if your child has an almost photography memory like my D.
For those children who are not yet reading, the benefits in terms of potential discussion around the topics are very useful. The touch screen element will make it very appealing to children of all ages. Definitely recommended.
Disclaimer: I received a code to redeem and download the App for free.
Thanks for reading, comments/RTs as ever welcomed Jx 😘
---
---