I'm still not well but the routine needed to be kept to and D went into school today.
Hubbie took T to his school so D walked about halfway to her school and then skipped (a sort of gangly skip, but a skip nevertheless, never seen her skip before) into school and went straight into her classroom and sat down at her table. This very rarely happens, there's normally reluctance to go in and a TA has to come out and coax her in so ….well done D!
Mornings like that, when she goes in so obviously happy are so rare, you want to capture them and play them back on the not-so-good days.
I hobbled off to the pharmacy at the local hospital to pick up her Melatonin. They won't post her prescription to me due to cut-backs (price of stamp 60p) so I have to spend £4 in bus fares and two hours in the day picking it up….go figure! Anyway, done now for next 3 months 😃.
D came out at the end of the school day very pleased to see me, very very affectionate – it was nice. She had some more work with her. One of the pieces I'd been hoping she'd bring home – as it was on display in class – and she did, love it: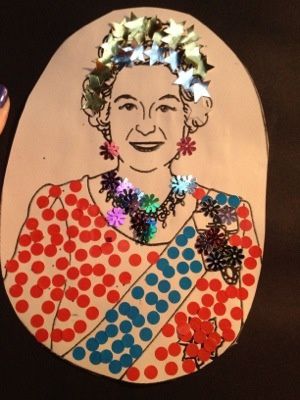 Lots of dexterity involved in sticking all those shapes on. She's more of a colouring/drawing girl and very quickly tires of doing anything like this at home, so this one's going to be laminated.
T brought some work home too, this is the cover of his "My Dream Scrapbook" which they've all spent a lot of time on.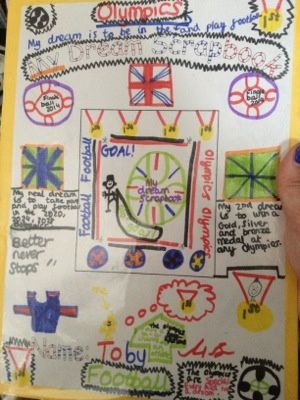 D's spent a lot of time (and battery drain) watching "Annoying Orange" on YouTube – and the orange is definitely annoying!
She's settled down very happily tonight, after telling us they're watching DVDs at school tomorrow with popcorn! Emphasis on the popcorn, she's really looking forward to it.
Hope everyone's had a good day. Comments/RTs as ever welcomed, thanks for reading Jx 😘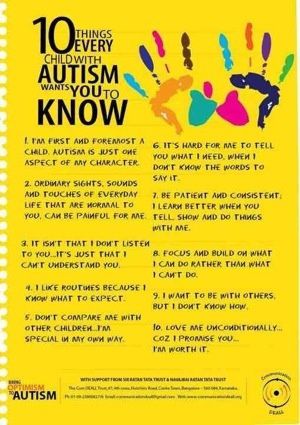 ---
---