A much better day for D. Today was her end-of-term class party and that means one thing for D…..food! Her little nose starts twitching away whenever there's something cooking and you can guarantee that will be followed by a "Mumma, my tummy says it's hungry", even if she's had her dinner half an hour beforehand!
She wanted to wear her party dress all day – one of only two she owns as she doesn't get the wear out of them – and this is it: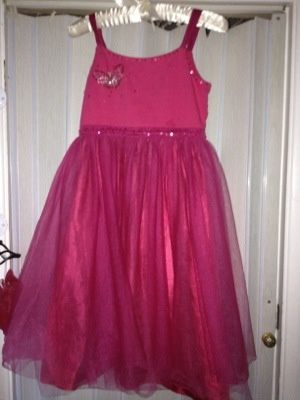 A sort-of-ballerina type dress, with shorts worn underneath. (I forgot to get a picture of her in it 😳)
She walked the last 1/3 of the way to school, it was nice to have a dry school run and was promptly gushed over by staff when she arrived. I'd said she could wear one of my Lola Rose necklaces too (they're made out of stones & completely hypo-allergenic) so she was looking very much like a little princess this morning. She had a bit of reluctance going into class but that was quickly forgotten about and she went in happily.
Such a contrast from yesterday, that is the predictable unpredictability of autism for you!
She came out at the end of the day very tired but happy. She'd watched the other children play games and had some crisps! Still wearing her dress, still looking lovely!
In her bag was some of the work she's been doing at school and one of the pieces I HAD to share: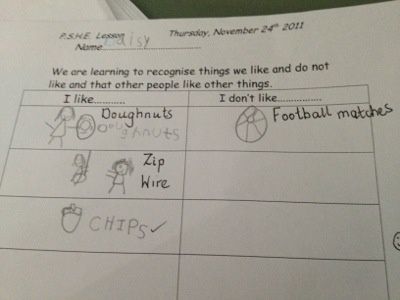 It's a very football-focussed household at times with T and Hubbie being involved with a local team and watching practically every programme that involves a ball being kicked so.. the "I don't like football matches" comment tickled me – that's my girl!!
There was some other great work, some of which I'll put on this week, both Hubbie and I are very proud of the "independent" work she's done – but the folder says "Foundation stage" so I presume they were working to an age 4/5 level? Not sure.
She got very very upset & tearful just before bedtime over a playmobil character and the fact she couldn't put their hair on. She loves these "small people" as nursery used to describe them, she doesn't do imaginative play with them, just likes to hold them and carry them around, bless her.
So..that's our day, as different as it can be from yesterday, life with D is never ever boring!
Thanks for reading, comments/RTs as ever welcomed Jx 😘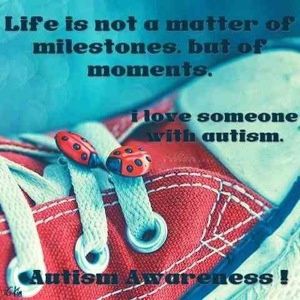 ---
---