As a parent to a special needs child, I'm unfortunately used to the stares and the whispers when I take D out "she's a baby" "why's she in that buggy" and then if D does get upset when faced with a sensory-heightened situation, it's the tuts and the general air of "not in my back yard".
This is why awareness and (it would be nice) acceptance of autism is so important.
I found a new level of mean-spiritedness at the end of last week. I debated whether to blog it or not for a couple of days, here it is:
I was in my local coffee shop, it's a little sanctuary. I get my coffee and catch up with blog thanks for RTs/mentions etc.
I overhead people talking about the Olympic torch relay, we'd had it "visit" the town nearest to us Tues evening/Wednesday morning.
My ears tuned in because – as you may be aware – I knew one of the torch bearers, a lady who had two Downs Syndrome (DS) sons (one of whom is in D's class) and she is chair of the local DS association. So her part in the relay was very much to raise awareness for her sons and other children/adults with DS.
Here's a picture below that made the ITN news site: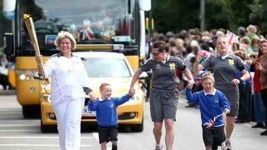 She's also featured on the front of our local paper: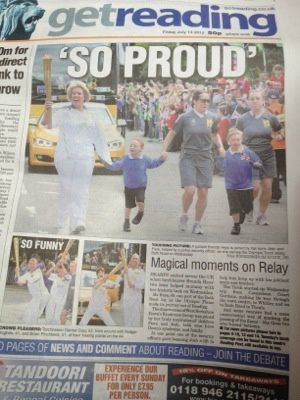 It's brilliant for DS awareness and for the SN school that her sons attend.
So..why were these people sitting there judging her for running with her sons? According to them they shouldn't have taken part. It wasn't appropriate, apparently.
It made me so cross that I left the area, I couldn't sit there anymore or I would have said something. Makes me wonder how they would have reacted if an autistic child had been participating.
So much for community spirit.
---
---