I had a feeling today would be a difficult day after the very busy and intense week that D had had and I wasn't wrong.
Any thoughts of giving Bunny a wash today were abandoned, it would have caused far too much anxiety to her.
It's been a case of trying to keep things calm, whilst entertaining a bouncy T, who couldn't get outside because of the (never-ending) rain.
We did have a nice spell this afternoon when we snuggled up and looked for "The Banana Song" on YouTube (there are some very strange songs about bananas on there!) and she particularly loved a song from "Despicable Me 2" which was strange because she wouldn't entertain watching the film at all.
It was all really nice until after we'd finished playing the "Manah Manah" song on my phone and it shuffled on to the next song. She didn't like it so she bit me, hard on the arm.
I find this aspect of autism very difficult to deal with, you've been deliberately hurt because your child didn't like something but you just have to carry on. I knew why she'd done it but I wanted her calmly to tell me why, which she couldn't. We had about half an hour of her just saying "sorry" – with a blank look on her face – I tried moving things along with her PECs timetable (no use), in the end the only thing that worked was a bear hug (that deep pressure) and a request that she stopped because it would make me cry.
So, it was a day as anticipated. I hope now that today's out of the way, she'll have a better day tomorrow.
Thanks for reading, comments/RTs as ever welcomed Jx 😘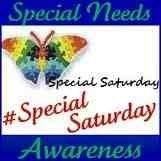 ---
---