I've used the word "garbage" in the title as I didn't want anyone to read it as "you're rubbish" as opposed to "your rubbish"!
The "Big Brother" effect is with us in our borough. I am a recycling devotee and it was with some relief that we were told our recycling would move to weekly. We do recycle as much as we can in the black crates provided – paper, cardboard, tins, cans, plastic in the weekly collection. Glass goes to the bottle bank and plastic bags/food packaging/crisp packets etc to the plastics recycling in our supermarket. Garden waste is also collected but it's a "stealth tax", you either have to hire a wheelie bin from the Council or buy compostable paper bags (which are useless and fall apart if wet!).
"All good" you're thinking and "what an Eco-friendly Council" but here comes the Big Brother bit:
We are not allowed to put our rubbish (garbage) out in anything other than the blue bags provided. No more black sacks.
We receive 80 bags a year from the Council so divide 80 by 52 weeks and that's just over one bag a week.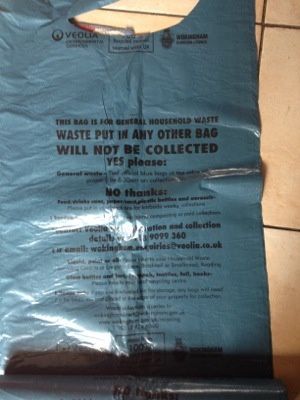 Don't get me wrong, one bag a week is fine for us as we recycle so much. It's big enough for the household rubbish and the guinea pig waste.
I can imagine those families with individuals wearing nappies/sanitary items are struggling though.
What I am waiting to see in the local newspapers is the stories of people who have run out of bags because they've used 3 bags per week. We see them on the way to school on garbage day, blue bags full of cardboard and tins etc.
T will look at these as we pass them and try to work out how many bags they'd need per year if they are using 3 per week and the answer is far more than the 80. What happens then? Do they store their rubbish for a few months until next April when the new quota arrives – ugh – or just dump it in the street in the forbidden black bags?
I don't know but Big Brother is definitely watching and keeping track of our garbage around here.
Thanks for reading Jx 😘
(apologies in advance for the creepy end picture!)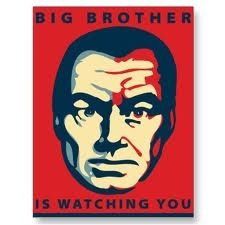 ---
---