Unlucky for some…
D woke up full of anxiety today, the same way she has woken up every day this week. Today was the day of her concert. Every day she's woken up saying "I don't want to sing" and every day has been the reassurance that I will be there and if she doesn't want to join in, she doesn't have to. Poor thing.
She managed walking about 1/3 of the way and there was some reluctance to go in, what with the singing anxiety. Reassured her that I would be there.
Well, she made it into the hall. The concert was wonderful, everyone standing up and singing – apart from
D. She stayed sat down on the bench, occasionally reaching her hands out to me. Her teacher was brilliant, not forcing her to stand and staying sat down with her, whilst everyone else stood. There was some harmonies with the songs – songs that D really enjoys singing either on the way home from school or in the bath, but my little songbird stayed silent.
At the end of the concert she had lots of praise from me, it's at times like this I remember when she was in mainstream that she did not participate in any assemblies, school plays or concerts because she physically & emotionally could not go into the school hall, anxieties would completely take over. So for her to go into the school hall at her SN school is a definite result.
I carried on with my day albeit a bit later, hoping D was having a good day. I did find out that she is not in the same class as the child who picks on her – I had put in a formal request to that effect – so that is a definite result. I know that going forward there will be taunts and goodness-knows-what but I felt that this has gone on for long enough (on and off for 3 years) and it just wasn't going to affect her school day anymore if I could help it.
Rain again on the way to school at the end of the day and due to that, I was waiting just outside the door, which had the benefit that she could see me straight away, not a wall of transport escorts and therefore came out very happily (note to self!).
She's been happily looking at her "My Animal Farm" books again and Hubbie & I were treated to a solo performance (with actions) of all the songs she should have sung this morning if anxieties hadn't overtaken.
All very glad it's the weekend, what with the dressing-up in Indian clothes for the majority of the week, the Olympic torch trip and the concert today, it's been a very out-of-routine week but this morning aside, she's coped very very well.
Ladybirds day 2:
No change from yesterday's picture, they are moving a lot around their habitat. T, being 9 1/2 years, is fascinated by their cannibalistic instincts. I hope we have a few out of the original 25 larvae left at the end of this.
If you've enjoyed the read, please take a look at my link to Thames Valley Adventure Playground and consider a donation. They are so reliant on public donations and it is such a wonderful place for SN children to play. Plug over!
I hope everyone's had a good day, comments/RTs as ever welcomed, thanks for reading Jx 😘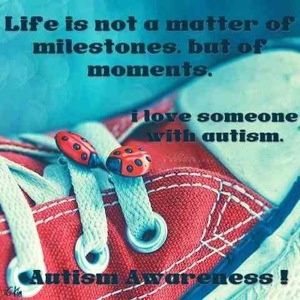 ---
---