For a change we had a dry school run this morning, it was NICE!
D walked about 1/3 of the way and there was a bit of reluctance about going in but that may have been because staff and pupils were in Indian dress again. They did all look very nice though, I think D has worn a dress of some sorts every day this week, I presume there were little trousers underneath though.
I'd picked up some build-a-bear Olympic torches for the class to do if the teacher allowed it, and they were going to do them this afternoon.
In the meantime, our ladybird larvae arrived, so Ladybirds day one
🐞:
They are tiny nit-like insects at the moment, which had to be transferred from a little box into their pop-up habitat. The stubborn ones had to be gently brushed in!
I wasn't sure how D would react to them as she does have a bit of a nit-phobia (see my "Itch-bugs & poppy seeds" post). They have enough food for 16 days but would welcome greenflys and aphids.
This is the nasty bit: they can be quite cannibalistic and are not averse to eating each other! This might be what the lady on the phone was referring to when she mentioned a lower success rate than butterflies and "nature taking its course"!
Here's today's pictures: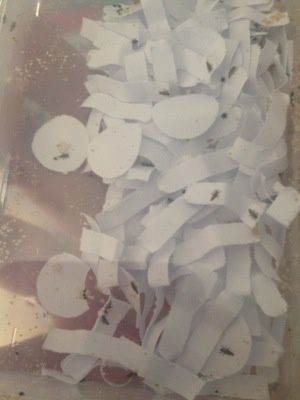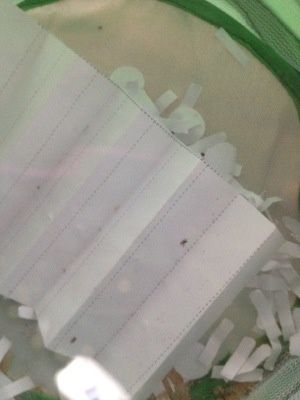 The ladybirds-to-be are the teeny tiny specks, the last picture shows their growth cycle.
So, that was my job today, setting up the little beasties, ignoring the involuntary urge to itch!
D came out with some reluctance – the traffic escorts were multiplying around the entrance – but the children were carrying their torches *yay*! She said they'd walked around with them and enjoyed it 😃
It started raining again on the way back so, she had her ice-cream for walking under an umbrella.
She was delighted to find more issues of "My Animal Farm" had come and she's enjoyed looking at the animals and reading the books. I love watching her with a book, we never knew if she would read and she didn't want to learn phonetically so it's wonderful to see and hear.
There was a social story in her bag for the new class in September, she's very familiar with 3 out of the 4 staff already. Sue (on the end) was her TA for the first two years and she is a lovely, bubbly lady – so pleased that she's with D again.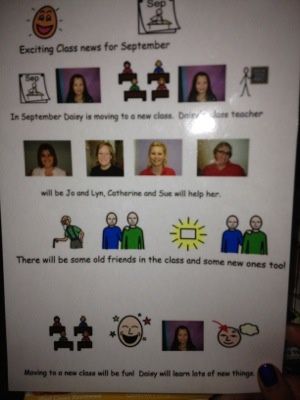 Because it was a busy house again today – gruesome twosome day – D has preferred to be in her room after tea, reading and playing with her new animals.
Hubbie, T and I found a way to get rid of the rainy-day blues, stick plastic cups under your nose and do the "manah manah" song – great fun!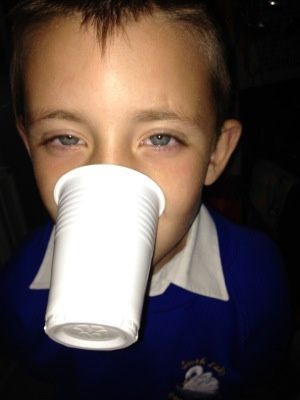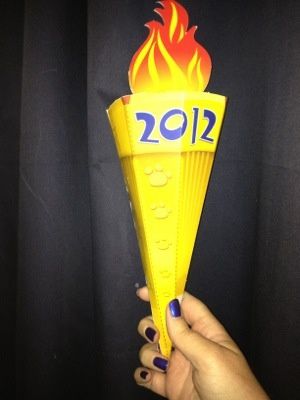 So, weather-wise it's been pants but the "My Animal Farm" package saved the day! She gets four issues every four weeks and so enjoys them.
I'm going to start referencing the JustGiving account set up for the Thames Valley Adventure Playground at the end of blogs, if you've enjoyed the post why not donate £1?
Here are the details and you can do the GiftAid thing too:
Http://justgiving.com/TvapSN
Or Text 70070 SXPU85 with your donation £1 £5 £10 or more. You will have the chance to register for Gift Aid.
Thanks very much for reading and comments/RTs as ever welcomed Jx 😘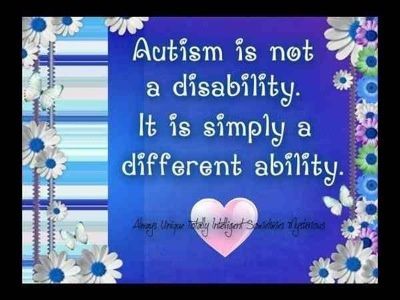 ---
---