More fun for D today!
We watched a bit of the torch relay before school, hoping to catch a glimpse of her classmate's mum (Brenda Heys) who was a torch-bearer. We had to leave without seeing her so presumed we'd miss her 🙁
D walked about 1/3 of the way to school and the Headteacher came dashing out of her office as we were going in. First thought was "oh, what's up?" but she'd come out to tell me how brilliant D had been yesterday on the trip. Which was lovely of her! She mentioned a couple of things that D had found funny and she agreed that the cake had been nice (D's best part of yesterday!)
When we eventually got around to her classroom, D had a bit of reluctance going in, the class and teachers were again dressed in Indian clothing, which threw her a bit. D was also worried about whether she'd be singing today (there is a concert on Friday morning), soon reassured and she went in happily.
What I didn't know until I picked her up was that they watched Brenda doing the torch relay on the big screen in school, so D didn't miss it. Her classmate and his younger brother ran with their mum, here's a picture: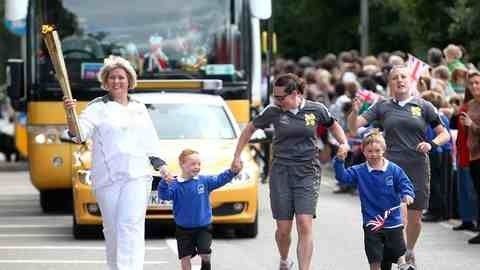 and they were featured on the ITV website. Great stuff! The two boys have Downs Syndrome and Brenda is chairperson of the West Berkshire DS Association, so great for raising awareness.
D also said – with prompts from her TA – that they'd had an assembly when her classmate returned to school with his mum and the torch. They'd all had a chance to look at it and D was very relieved that the flame was out, bless her. Lucky children, getting so close to a torch.
It rained AGAIN on the way home, poor D trudged along under an umbrella as we had a full buggy (gruesome twosome day).
She's been a little bit sensitive this afternoon and evening but the house has been busy.
It's been an exciting couple of days for D and what with the concert in the morning on Friday, she's coping very well. I hope she doesn't build up any anxiety between now and then.
So…very pleased with how well she's coping with what has been a very-out-of-routine couple of days.
Hope everyone's had a good day, comments/RTs as ever welcomed, thanks for reading Jx 😘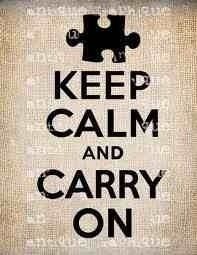 ---
---