The 50cent blog RTs are still happening at a steady pace, thanks very much x
Today was the day D had been looking forward to for AGES, ever since we saw a trailer on Christmas for the new Ice Age 4 film. She loves the Ice Age films and if she ever needs a DVD as a calming tool, she will choose one of those.
So, whilst T and Hubbie were heading off for a presentation of trophies from their football season and bowling, we went to the cinema.
I purposefully chose the earliest screening I could and it was very strange to be in (a normally busy) town with just a few people passing through to go to work.
This was a very excited D on the way, passing through a deserted and very quiet shopping centre – spot the Bunny!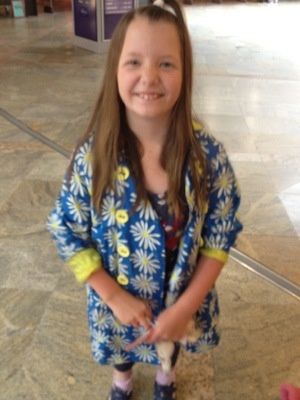 This was her standing in front of a HUGE poster for the film: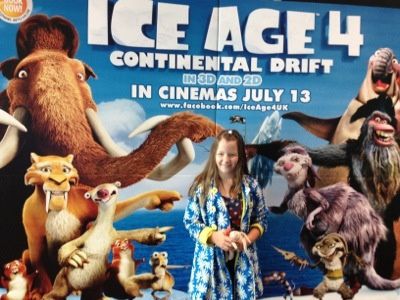 The early strategy worked as there was a maximum of maybe 20 people at the screening. We had seats well away from everyone else too so D felt very relaxed.
The short film before Ice Age was a Simpsons film, it was quite dark & menacing in places and if you go and see it in 3d, watch out for the nits! They really scared D.
The Ice Age film itself was definitely up to their usual standards and D loved it. She laughed away at it and watched it either on my lap or cuddled up with me. Really glad we went.
As MaccyD have Ice Age toys with their Happy Meals at the moment, that was our next port of call. It was very very busy so D had some coins to swirl in their charity collection box whilst we were waiting. She was jumping & doing a bit of flapping with excitement but very happy. The toy was some bizarre character that I don't remember seeing in the film!
Whenever we go into town, D loves to walk/buggy through House of Fraser. She has a little routine where she likes to look at the designer sofas and whirling-around chairs first and then we take the lift (with her pressing the buttons) and we have a girly wander through the handbag section. Unfortunately this was marred by one member of staff constantly watching D with the most filthy look, like something at the bottom of her shoe. D wasn't running around or shouting, we were just happily looking around and she was doing a bit of flapping and showing Bunny all the (very nice) handbags. I don't know why people have to be like that, there wasn't a hint of a smile, just a total look of disdain.
Next shop was much nicer! Build-a-bear workshop had some Ice Age toys in, so I let D choose one. It's soft and cuddly and I know it's not something that will be discarded. We were waiting in the queue to get the toy stuffed and the lady was saying to the child in front "put the heart on your muscles to give the toy strength, put it on your head to make it clever, put it on your cheeks to make it happy" etc and part of me thought "please don't ask D to do that, she'll get all muddled & confused" but when it came to our turn, she just asked D to kiss the heart and D was very happy with that, some empathetic vibes had come through.
This is the toy and there was also a free Ice Age poster – complete bonus!!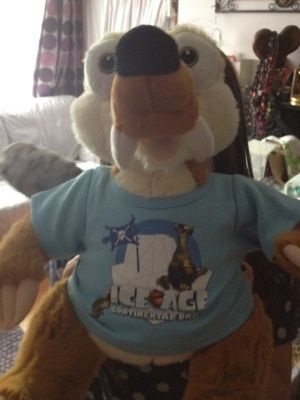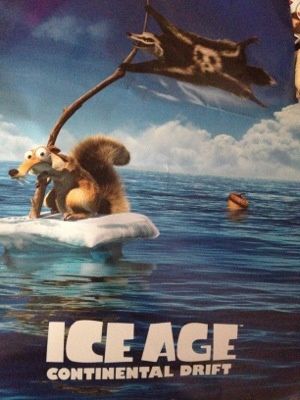 We got back to find T had been awarded the "players player of the year" by his football team, he's very pleased. I'd got them all Cadburys Choc medals too which went down very well & quickly apparently.
Here's T with his trophy, a very pleased chap: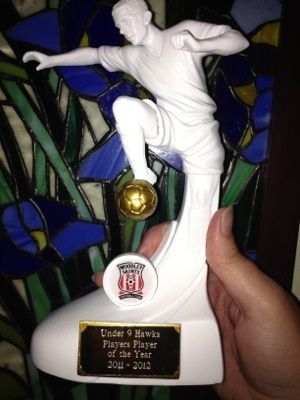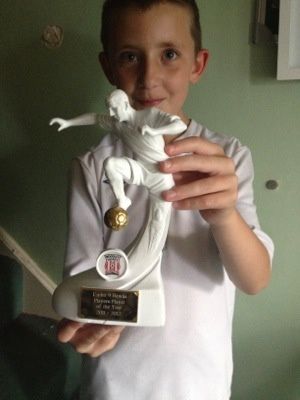 T and D have been a bit (ok more than a bit) squabbly tonight, which resulted in a meltdown but it was to be expected, they've both had a long day and for D, it's been a very sensory-aware day. I don't think anywhere near us does ASD-friendly film screenings but it's something she'd feel more comfortable at, I think.
So…snooty shop assistants and a meltdown aside, our day has gone very well. Hope everyone's else has too. Thanks very much for reading, comments/RTs as ever welcomed Jx 😘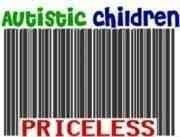 ---
---