Once again, thanks very much for all the 50cent post RTs, way too many to thank individually.
The blog post has taken on a new meaning for me now, it's showing people who click on it that autism is definitely invisible – all those happy, smiling faces prove it – and if it helps a small percentage of those readers to reconsider autism and not just be aware, but also accept then…job done.
On with our day….
It was a little fraught this morning, D was tired and the little things I would expect her to do – like putting her socks on herself – just weren't happening.
We still got out on time but it's hard to accept sometimes that your eight year old daughter still cannot dress herself – albeit in tshirts and leggings due to sensory elements – I know there are motor and dexterity issues but it's something else to worry about for the future.
We had time after dropping T off for a few minutes at the park that we pass through, here is fearless D – she has definitely got her dads head for heights, not my fear of them: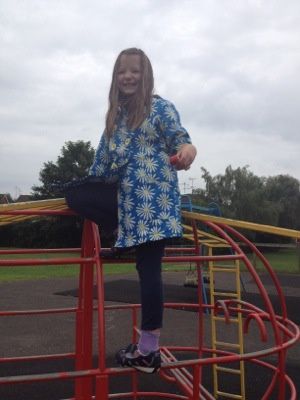 The object in her hand is "little snake", something she'd made out of a sock, sellotaped it's body and drawn a face. Her toys are always named as they are, Bunny is a bunny for example, as is caterpillar – that lack of imagination element I guess.
She walked about half way to school
again, stopping frequently for the snails and slugs – there are SO many! And there was a bit of reluctance when she got to her classroom but was coaxed in with the aid of her TA.
She came out very well, delighted to see me. They'd done a lot of singing practice today, there is a performance next Friday at school to which parents are invited *yay*!
There has been a bit of anxiety around seeing the Olympic torch with school next week again but lots of reassurance given, I so wish I was going with her, the ratio of staff to pupils is very high, I hope it all goes well.
That apart she's been happy, either reading or wearing down the battery on my phone with the Angry Birds trailer.
A busy weekend ahead for us so she needs to settle well tonight.
Tonight's picture is via Bev @hodgesclan, she does send me great pictures. This one is perfect for D, she does relax by drawing and colouring. Her pictures are always so positive, full of detail and colourful.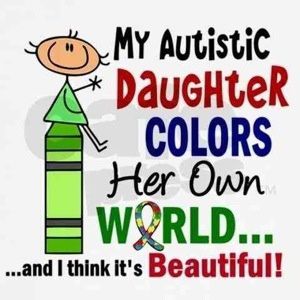 I hope everyone's had a good day, comments/RTs as ever welcomed, thanks for reading Jx 😘
---
---