Oh My Goodness! When I had this little idea of a picture blog for #thisiswhatautismlookslike I did not think it would end up being mentioned in the Huffington Post!
I'm so pleased. Readers will be able to click on the link (by the way I am Autism Mama in the article!) and see those wonderfully positive, beautiful pictures that you have submitted and see that autism is indeed an "invisible disability".
If none of you had sent in pictures and given your permission, there would not have been a blog so *applause all round*.
There were just so many RTs of the blog I couldn't keep track and thank individually so thank you everyone that did RT, I had a months' worth of blog views in two days!
Climbing off my pedestal now, let's get on with the diary blog:
D was in a really good mood this morning, fantastic to see. Lots of big kisses and "Mumma!".
She walked half the way to school, for the first time in AGES it wasn't raining so the slug and snail counts were a bit depleted. There was a hot air balloon we could see in the distance so that kept her focused when walking.
We got to school and she went through the classroom door unaided, normally she has to be coaxed in by a TA because there's usually reluctance. She does have a different teacher on a Thursday and Friday so I think there may be a link.
I went off delighted that she'd gone in so well, it makes such a difference to be able to walk away happy rather than sculk away worrying and wondering how she's going to be.
She came out very well at the end of the day too, delighted to see me and even more over-joyed to see the ice-cream man! He's so great with her, always asks her if she wants her "usual" and gives her an extra flake, bless him. D will pay if I have the right money, if I don't she tree-hugs and I have to pay. This is a very happy D just about to tuck in:
The ice-cream distracted her from the people around her and she was able to walk home all the way. Well done D!
Her good mood faded when we'd been home a while, she suddenly became very tired, very sensitive, very shouty and very stamping her feet, saying "I want to break my bones". When I asked her about it she said it was because I hadn't taken her reading books back today – she'd seen them on the table. I said we'd take them back tomorrow and say sorry and she said "No Mumma, it was your fault YOU have to say sorry, not me"…okay D, you have a point there!
She calmed down enough to do some reading. Lovely reading, full of expression and taking into account the punctuation. Two years ago we weren't sure if she would read, she would not read phonetically at all, she's come so far in that time 😃
One of the books had a picture of a girl singing in a hairbrush. Something I did as a teenager in front of a mirror, pretending to be a backing singer to my favourite group. I pointed out the picture to D and she thought it was very silly and hairbrushes were used for brushing hair and that's that! Make me wonder if she will ever do this: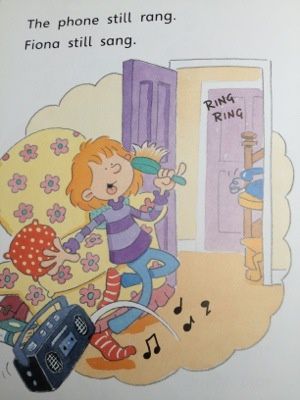 But if she doesn't, that's okay too.
She's happily settled now with Bunny and Caterpillar. I hope she wakes up
in another brilliant mood and yes, I need to say sorry to her teacher!
I hope everyone's had a good day, comments/RTs as ever welcomed, thanks for reading Jx 😘
Tonight's end picture comes from Bev @hodgesclan, she's my picture-sourced! Grateful as ever x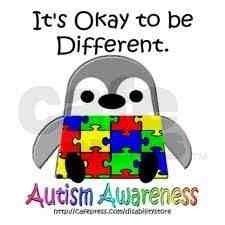 ---
---