Summer holidays fast approaching (or already upon you, if you live in Scotland) and I'm thinking how to instil some routine into our six (long) weeks to try and minimalise meltdowns and anxiety. This is where the PECs will come in useful, which will hopefully give D some grounding and reassurance of what will be happening that day.
We do have three medical appointments for her during the holidays and I've made sure there's at least a week between each one, each of them will be in an unfamiliar place and require changes of buses etc. They're all important ones too so I need her to remain calm (everything already crossed).
On with our day:
And what a wet one it was! So much for *coughs* British Summer Time. I only made D walk a quarter of the way this morning *sssh!* as I didn't want her to get unnecessarily wet. She was a bit reluctant to go into the classroom so her TA came out and we briefly showed her TA some butterfly pictures before D then went in happily.
She came out very well at the end of the day, very pleased to see me. They had been trying Indian dancing today as part of Olympic preparations and she'd really enjoyed it.
Whilst she's been at school I'd popped into town and found this in Build-a-Bear workshop: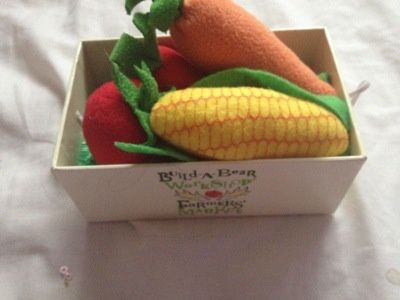 She had them to hold and look at on the way home and they distracted her very nicely. I had to cut all the labels and elastic tags off for her as soon as we got back though. They were only £3 but she's so pleased with them.
Forget dolls or dress-up or anything that you would expect an 8-year NT girl to do, D is very happy with her play food and Bunny, and if the play food is soft enough to carry around and cuddle at night, even better.
She also did a lovely colouring at home of the life-cycle of a butterfly: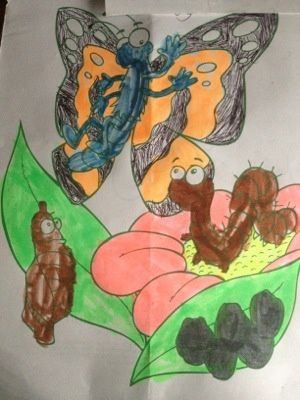 The butterflies have all gone now, 90% success rate, and it was an experience well worth doing. A lot of people have asked where the kits came from, I got ours from Insectlore at livebutterflygarden.co.uk, I know they are available on Amazon etc but they offered 10 caterpillars as opposed to the normal 5, and I wanted to ensure a good success rate. They do all sorts of other kits – ladybirds, stick insects, worms and (something I'd like to do) giant snails! We're trying the ladybirds next though.
So…a good day for us, hope everyone's had a good day too. Comments/RTs as ever welcomed, thanks for reading Jx 😘
Tonight's picture is from @lisaj4autism, it has a message that is so important: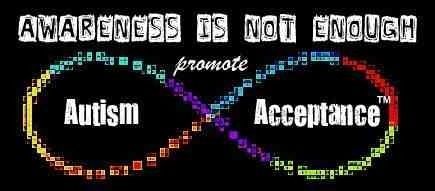 ---
---