What's the saying "pinch, punch, first day of the month and no returns"? Well, that's how this morning and evening has felt.
We had a Bad night last night – note the capital B. For some reason every so often – even though we have catflaps – one of the cats takes it upon herself to sit outside the front door and yeowl! Whether it links in with some sort of moon cycle I don't know, but it's about once a month, then you get up, let her in and then she goes out the catflap around to the door and starts again. T slept soundly through all this – he can sleep through anything – but, despite the fact that D had had her Melatonin, it kept her awake.
One tired D, one tired Mumma today. So we abandoned our plans to go into town – way too much sensory overload on top of tiredness – and spent our day mainly looking at the butterflies!!
By 11am, we had nine butterflies. Which is a 90% success rate. The remaining pupa doesn't look very healthy and that might be where the cat (yes, her again) managed to paw it from the outside of the enclosure.
D has spent a lot of time looking at them and collecting flowers for them. We've been able to get really close to them, here's some pictures: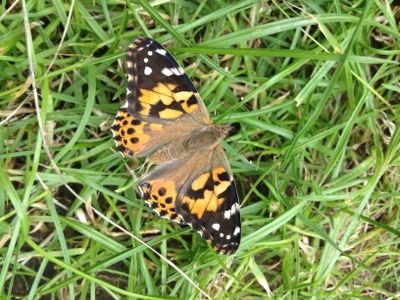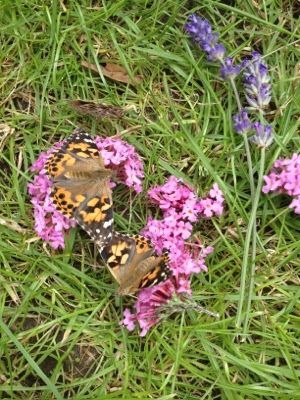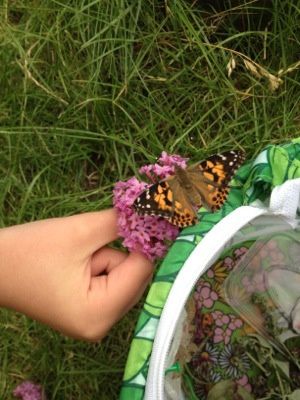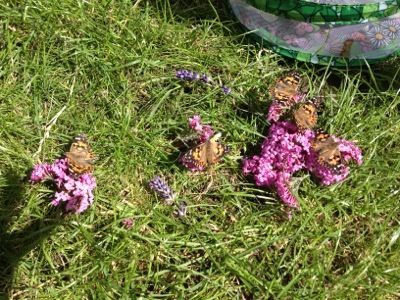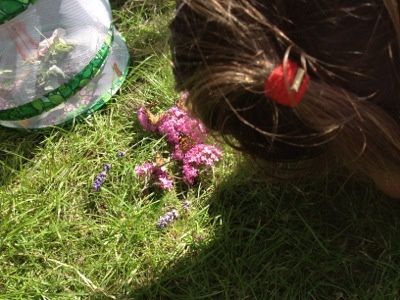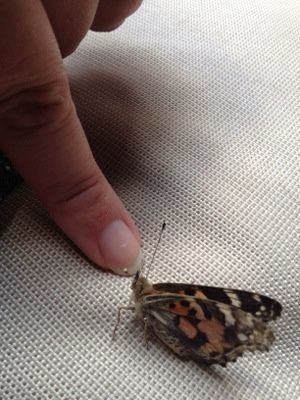 In the last one, the butterfly has its leg on my nail. It just flew over and sat on a cushion next to me!
During the course of the day, 6 have flown away. Two stayed in the garden so we've popped them back in the enclosure overnight so nothing with four paws & a tail is tempted by them!
This is what's left of their cocoons, transparent little shells.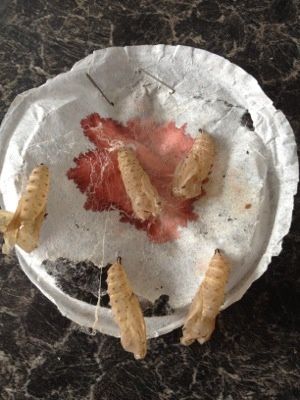 The red stuff is waste products that are collected in the pupa, it looks like blood but apparently it's natural.
When she hasn't been butterfly-observing, D has been reading her book on the butterfly life cycle and, more often, playing the same Angry Birds Space trailer on YouTube.
This evening went a bit downhill, Hubbie's task was to wash D's hair, I was within listening distance but I don't know who got more stressed 🙁 They'd just made up (finally) when Hubbie managed to injure his toe nail on one of her little teeny tiny toys that she likes. Injured Hubbie, very upset Daisy, it was a case of being an multi-tasking octopus, dealing with his injury first and then comforting D afterwards.
Not pleasant but she's all calm now and Hubbie's had his nurofen and I'm sure Euro 2012 is helping to take his mind off it!
So….bit of a rollercoaster day. I hope everyone's had a nice day, thanks very much for reading, comments/RTs as ever welcomed Jx 😘
Another end picture courtesy of Bev @hodgesclan tonight, I've been sent a few brilliant ones (thanks again Bev x)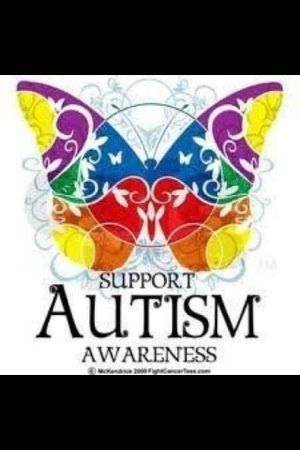 ---
---