We've had a really good day today, I think D is very relaxed now that all the sports day preparation and practice is over and normal routine is back at school.
We stopped off at the playground after dropping T off at his school, D definitely has Hubbie's head for heights, not mine!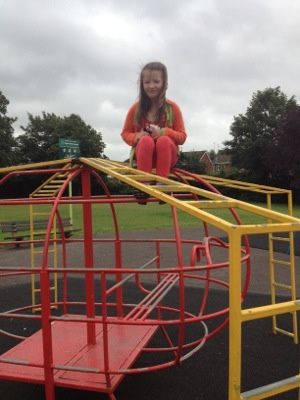 She walked about 3/4 of the way, most of it was spent hiding under my cardigan behind me – not out of fear but giggling! It was during one of these times that she must have dropped Bunny – nightmare scenario 😱 – as we found out once we'd got to her school. Fortunately she accepted that I'd go off and look for Bunny and bring her back with me at the end of the day. Bunny was found – mega mega phew – about 5 minutes walk away and I phoned school to say could they please tell D that Bunny was okay.
Bunny had a great day – well, for a stuffed toy – she spent the morning in my handbag and the afternoon in the washing machine! Well, it's such a trauma to get her washed and out of D's grip for any length of time normally. This is Bunny outside D's school, she did today's "musical walking tweet" too: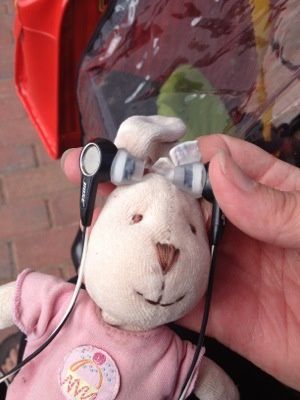 D came out DELIGHTED to see her Bunny and very happy with her day, she had received the Bunny message. She'd tried cricket in P.E. and enjoyed it! She had also spent the afternoon telling everyone they were either pretty or handsome, depending on gender. Another dad, who was there to pick up his daughter, said hello to us and D replied with "hello handsome", he blushed! The lollipop lady got told she was very pretty too. Hubbie, T and I were complemented so much I thought our heads would swell, we've told D she's wonderful and gorgeous too!
She's done some very positive drawings tonight in the tiniest passport book from her "Justin's House" magazine, too tiny to photograph.
Lots of YouTube of Angry Birds Space as per last night too, the Manah Manah song is having a little break.
Butterfly watch – day 29 🌸🐛🌸:
I came back from the nursery run at lunchtime to find two butterflies – applause & cheering time: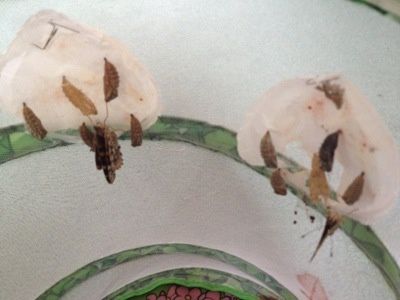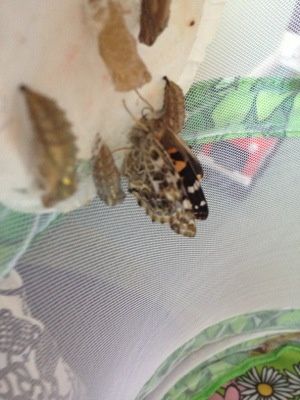 I presume the other 8 will follow suit over the next couple of days as it took 2/3 days for them all to cocoon. The aim is to set the majority of them free on Sunday so T and D can observe them hopefully spend some time in the garden before flying off – weather permitting!
Very glad they're starting to emerge and are okay. Glad also that they're in their tented area – the cats are fascinated by them!
Last photo tonight comes via Bev @hodgesclan, we share a mutual love of butterflies: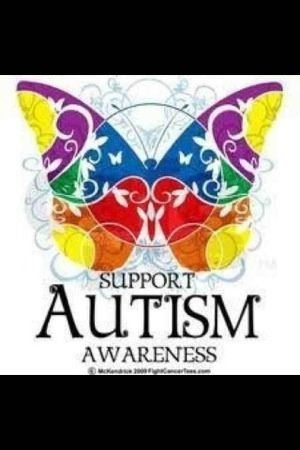 Hope everyone's had a great day, comments/RTs as ever welcomed, thanks for reading Jx 😘
---
---