Another huff-worthy day in parts, I'm afraid.
The school run this morning was Horrible, with a definite capital H. D started off well with her walking but got scared by these two children who always cycle too close to her, so back to the sanctuary of the buggy. We got close to T's school when she realised that she had dropped one of her toys (no, not Bunny, but a "My Animal Farm" toy cat she likes to carry). T scuttled to his playground and there was no negotiation, it was back to find the toy, she said (ok, shouted) if it wasn't found then she would call 999, by this time she was angrily stomping off. We got to the main road and she was so angry she got out of my grasp and went out into it – aargh! – fortunately the oncoming vehicle was slow, if it had been going faster it would have been emergency stop time.
Her lack of road sense – despite repeated instruction – really concerns me. There was an autistic woman in a local news programme a few months back who has been hit by cars about 20 times (I think) because she is unable to judge speed and they all seem like a blur to her. Really worrying for the future.
Anyway, the toy was found and so we set off again, accompanied by "I don't want to walk, tell school to stop making me" and similar shouts. I tried her favourite song on YouTube and a coin but it was a case of one hand on the buggy, the other around D – reassurance for her and for me.
Eventually we got to school, unsurprisingly some reluctance to go into class so her teacher came out, I explained what had happened and D went off, after reassurance.
I headed for a coffee and a muffin (shoot me down) channelling the Scream portrait!😱
D came out at the end of the day looking very tired and very scared of the transport escorts. She was very vocally negative about sports day tomorrow. Moans again about walking until we played a guessing game. She had a pack of smarties as her after-school treat and T and I had to guess what colour she was pulling out next. We got it right a few times, but mostly wrong much to D's amusement! It kept her distracted and laughing, shouting out the colours, all the way!
Something else that made her laugh was a makeshift puppet show at home: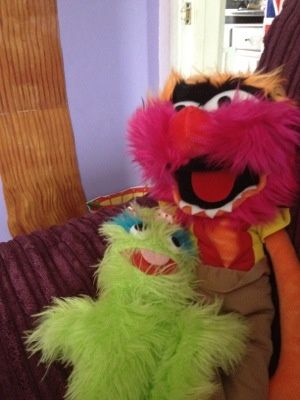 Performed to the "Manah Manah" song!
Aside from that she's done solo play with her Lego and playmobil, happily in her own zone.
Butterfly watch – day 26 🐛🌸🐛:
Still no further progress, my ten bat-like little Freds. We have a book that fascinates D as it details the life cycle, here are the caterpillar pages: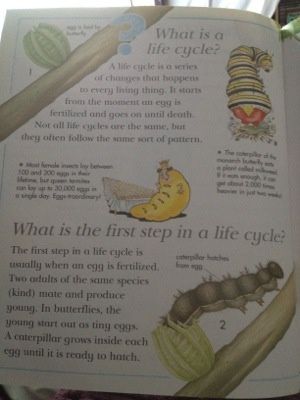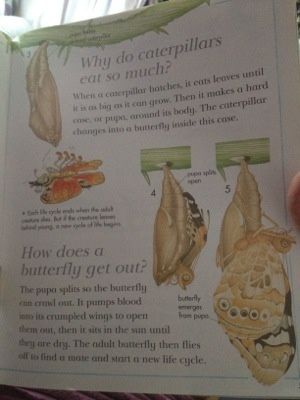 Looking it up, the pupas turn a much darker colour the day before the butterflies emerge so at least we'll know then that it won't be long.
When our day ends peacefully and she's settled happily, it's hard to believe the downsides of the day, but autism is definitely a rollercoaster. Just glad she's happily zzzz-ing, with her Melatonin aid.
New day tomorrow, very much out-of-routine with sports day activities in the morning and afternoon, I hope she puts her anxieties and negativity around it aside and enjoys it, I'll be there for both sessions.
Thanks very much for reading and comments/RTs as ever welcomed Jx 😘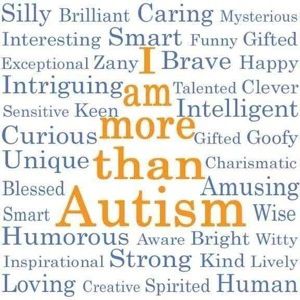 ---
---