Huff, huff, huff. Yes that's me tonight.
The day started off really well. D walked to T's school, then had a spell in the buggy, then walked into her school. She knew I had to then walk back to T's school for his sports day so went in very well, bless her. I wish I could have taken her but the unfamiliar surroundings, mixed with the large amount of people, coupled with the fact that she wouldn't have been allowed time off and that it was T's "thing" wouldn't have worked.
T's sports day went very well, his "house" came third overall and there were no individual races, it was all about team spirit and fair play. Here's a few pictures: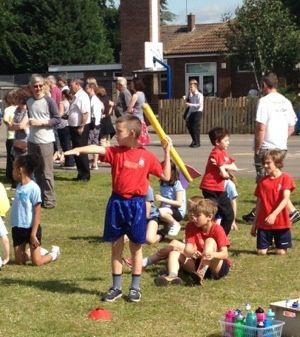 T is in the red t-shirt & blue shorts.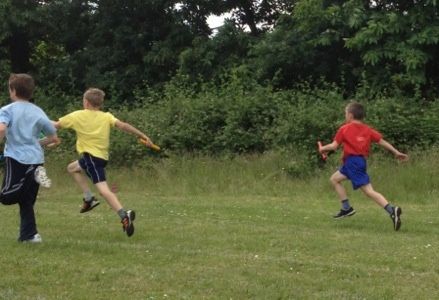 When it was home time, D came out very well but then realised she'd left her hat in class, she went back in with the TA. She came back out and then her little cat toy was missing so we went back in (again). The corridors were absolutely full of transport escorts, parents and child and she held onto my arm saying "I'm not going to get afraid", bless her! And she did very well, the relief on her face when the little toy was produced too. It would have been a different story of it hadn't been there!
So…attempt 3 at setting off and by now the ice-cream van had arrived, it's normally a Wednesday treat but she had coped so well, I thought she deserved one. Lots of secondary school children around the van so she did a bit of tree-hugging whilst I ordered, and that treat occupied her all the way home! Well done D!
Unfortunately a different story at home. T was tired and he's getting a cold, squabbles over the trampoline and various other things, one wanted to
use the sand timer, the other ignored it. Early baths for all and a subsequent long-lasting tearful episode for D. She's calm now but it's taken a lot to bring her back to happy, calm D.
Obviously I realise squabbles are normal for a brother & sister but when one is that little bit more sensitive, it does take much longer to diffuse.
A new day tomorrow, I guess and I presume more preparation for her sports day on Wednesday (which is morning and afternoon!)
Butterfly watch – day 25 🐛🌸🐛:
They're still bat-like, hanging around, chilling! Be nice to see some progress soon!
Hope everyone's had a good day, thanks very much for reading and comments/RTs as ever welcomed Jx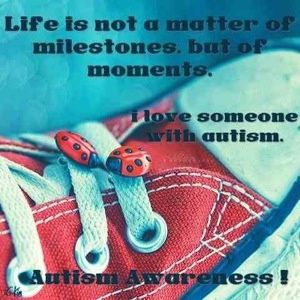 ---
---