There has been a spate of comedians mocking disabled children in the last few months. Easy targets or is it something more?
The red-top tabloids seem determined to name and shame benefit cheats, headlines screaming "lotto winners still claiming £xx benefits" and "off work for xx years with a bad back and filmed running a marathon" and then you have the stories of the families with children in double figures, the stories are written in such a way that it implies the parents are proud to receive £xx from the state.
I can understand how these examples can and do annoy people.
But to mock disabled children? What have they done wrong? Being told that your beautiful child has a life-long disability is heart-breaking – literally – and then you pick yourself up and realise if you don't help your child and "watch their back" there isn't a great deal of practical help offered, you have to seek it.
Yes, there is a Disability Living Allowance benefit and a Carers Allowance benefit but this does not begin to cover the fact that weighted items (which help regulate sensory issues), SN buggies (which are vital if your child has severe anxiety issues) and other SN items are very very expensive. Employment is scarce anyway so to find a position which would enable you to only work school hours, take time off repeatedly for medical appointments and include emergency time off for illness and anxieties around schooling etc would be miraculous. Many SN children are schooled at home because either the system cannot incorporate them or anxieties are such that they cannot go into school.
I'm digressing and anyone who mocks disabled children is not going to be interested in the day-to-day existence of parenting a SN child, they are looking for a quick and easy laugh.
Then they go home to their families. Do they feel regret for their words as they look in on their sleeping children? Do they consider that the people who have laughed at their "jokes" now have an opinion based on what they have heard? Yes, talk is cheap but words stick.
No matter if there is an apology for any jokes (and there rarely is) the words are already out there.
There is a saying "walk in my shoes" but I'm not offering that to anyone who mocks SN children, they'd only mock further and I don't want to swap and live their ignorant lives anyway.
An example from a magazine 9/12/2012, it continues…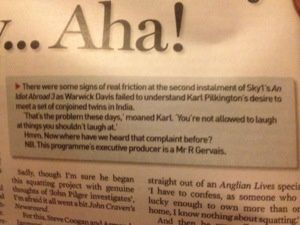 ---
---