Definitely a rollercoaster week. To quote from Ronan Keating's song "life is a rollercoaster and you've just got to ride it".
I found out last night that someone we knew had died from cancer. 63 years old, before her time. We are also approaching the first anniversary of losing a wonderful, vibrant, take-life-and-live-it person to this disease. Cancer is so vicious and non-discriminatory. News like that makes you appreciate what you have, truly.
On with our day therefore:
The song this morning has been, yep, you guessed it, the "ma nah ma nah" song. Played via YouTube countless times from 730am and all the way to school. Hubbie dropped T off so D walked all the way to her school, with no drop-off at T's school and therefore much reduced anxieties. She went into school happy and singing. The song had a rest for 6 hours until she came out, late again but extremely happy to see me. The phone was taken out of my bag and the song-playing started again. It could be a lot worse, song-wise!
Defy you not to smile…….http://t.co/iJGD76DU (I hope that link works!) I don't think it did, sorry. Head for YouTube, type in "Muppets, Mahna Mahna".
There have been a few squabbles after school between T and D but definitely nothing major, they're both looking forward to
some downtime this weekend. Both (weather permitting) have their sports days next week so there's been plenty of practice. D has to wear her "house colour" for it and it has been drummed into me "Mumma, I MUST wear yellow on Wednesday"!
Caterpillar watch – day 22 🐛🌸🐛:
*triple yawn* nada, same as. They're obviously very busy, hanging around bat-like, transforming away…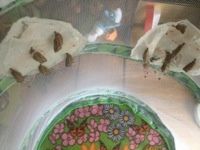 So, I hope everyone's had a good day, thanks very much for reading and comments/RTs as ever welcomed Jx 😘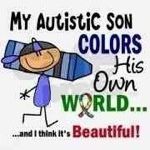 (in my case, substitute son for daughter, but it's a great positive image x)
---