The longest day, start of summer….ho hum ☁☔☁ anyway…
Today has mostly been about the Muppets "ma nah ma nah" song! Oh my goodness, D loves it! We had several YouTube plays of it before the school run and countless plays during – thank you iPhone for being technically wonderful! She managed to walk about 2/3 of the way again and was still watching the YouTube video when we got to school, giggling away. Luckily her TA let her finish watching the last minute or so.
When it was school-home time they were late coming out, so I had to go in and wait outside her class. The corridor was full of children, transport escorts and parents and as D came out, you could see the panic on her face. She bolted and once caught up with, we came out a slightly quieter way, both the TA and I firmly but gently holding a hand each. When this happens, it makes me even more aware of how much effort it is taking to do her walking to school, as ordered by the OT they reckon – by the way – that this anxiety will diminish but she's ALWAYS had it, from an early age in her buggy, she could not tolerate strangers being alongside/in front or behind her. Nothing untoward had ever happened, she has always had this anxiety. Rant over…
Once we were outside school grounds, D got her ice-cream from the van – laughing because the ice-cream man got ice-cream on himself because the machine splurted a bit extra out – and then the heavens opened. So D did her walking – ice-cream proving a good distraction – under an umbrella.
She's been in good spirits tonight, lots of YouTube "ma nah ma nah" watching and she drew one of the pink cow-monster-muppet things that do the "do do do do do":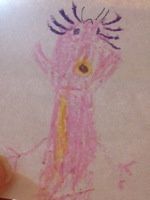 Butterfly watch – day 21 🐛🌸🐛:
*double yawn* no change. Whatever is happening inside those cocoons are happening silently and motionless. Here's today's picture: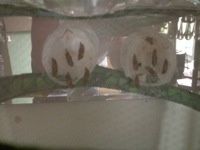 So, all things considered, D's settling happy and that's the main thing. I've just realised that there probably wasn't as much sports day practice today due to the weather, so there may have been more school routine adhered to. We are definitely riding an "autism rollercoaster" this week and today we're "on the up", let's see what tomorrow brings.
Tonight's picture I found on twitter and I wanted to share: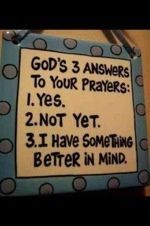 I liked point number 3.
Hope everyone's had a good day, thanks for reading and comments/RTs as ever welcomed Jx 😘
---
---