So many questions buzzing around my head in my previous post, I realised I could have added to the list many times over!
The title "why?" always reminds me of inquisitive 3 or 4 year olds, I didn't get that stage with D and even now, she very rarely asks "why…".
On with our day:
D managed walking about 2/3 of the way again, still being almost masochistic about willing herself to walk closer to
T's school and therefore getting anxieties from other people being around her. She's a funny little thing though, we get to a certain stage of the journey and she'll start doing the "Ma Nah Ma Nah (muppets) song", it's been the same place 3 days running and that little sing-song seems to spur her on!
Lots of sports day practice again at school so a very tired D excited at the end of the day. She was also very anxious because I wasn't in my usual place (where she could see me) as someone else was sat there. She took some calming down. As a consequence, maybe 1/3 of the way was walked home. Shoot me down! Lots of negativity shouted from D around sports day so I was relieved to get through our gate. Her sensitive mood has continued all evening, only being lifted by seeing the "Ma Nah Ma Nah" song on YouTube – a few times – the Muppets version. Someone was saying to me today that that song was on the soundtrack to "The Muppets" film, will have to investigate!
Butterfly watch – day 20 🐛🌸🐛:
*yawn* nothing has changed, today's picture is below. All just hanging around like little bats. I'm considering getting a ladybird kit next – def not stick insects!!
Hope everyone's had a good day, thanks as ever for reading & comments/RTs welcomed Jx 😘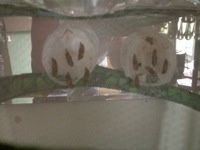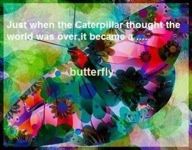 ---