Thanks very much for the RTs of my earlier post today, really appreciated 😘.
A much better day today, D did her 2/3 walking to school this morning and I think if we didn't have to go to T's school first (with the swarm of school children and their parents) she'd probably walk all the way. She's very regimented about walking to where we'd discussed, then using the buggy to T's school and then walking again. Really proud of her for sticking to it. Of course, walking a familiar, quiet route to school is very very different to, say, walking through a busy shopping centre so I can imagine that the buggy will play a big part in her life for some time to come.
She went into class very well too, eager to share the news that the caterpillars had all started to turn into butterflies. Speaking of which: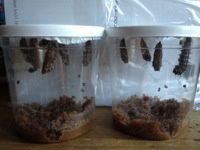 This is day 18, 🐛🌸🐛, all hanging upside down like little bats! All very still until one will start frantically wriggling!
Speaking of insects, I don't know whether it's because they're in the house but I am having the most BIZARRE insect-related dreams! Yesterday I woke up having dreamt that D was eating caterpillars with ladybirds heads, really relishing them, chomping away (!) and last night's was that I had purple head lice! If anyone analyses dreams and it's something that could lock me away, please don't tell me, I'm needed at home, lol!
Anyway…. D came out very well, running at me, calling "Mumma" and this carried on for the 1/3 or so she walked home, holding my hand saying "Mumma". I think she was pleased to see me. I'd asked if school could do me some PECs after yesterday and they've agreed, so should have those in a couple of days.
Once we were home, D said they'd been practicing for sports day and she wanted to practice more in the garden, so she's been running, egg & spooning and attempting to hop! T joined in too and they were both very good natured about it, surprisingly.
She's settled very well tonight – with her Melatonin – worn out by lots of sports day practice, she's very excited about it!
Hope everyone's had a good day, life really is a rollercoaster and we're on the good bit at the moment!
Thanks for reading, comments/RTs as ever welcomed Jx 😘
---
---