A nice (on the whole) calm day at home today. When D has got upset and wanted to go off, I have managed to find out what's wrong and intercept, it's normally been T being a brother! His football tournament this weekend was cancelled due to the weather so he's had energy to burn!
She's done lots of reading today, both outside in the "Apple" (garden day bed) which surprisingly protects you from the incredibly high winds and indoors: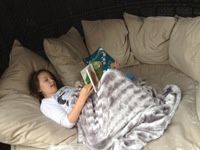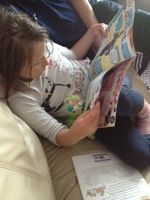 Love hearing her read, we spent so long not knowing if she would be able to, it's great.
We all snuggled into the "Apple" for a bit more joke-telling and D's jokes are so obscure (and not really jokes) but again, because she's happy, we're happy.
She wanted to play the hot/cold hide an object game today and hid her hand puppet from the "Justin's house" comic, it started off really well and then she got her hot and colds mixed up! All good fun.
She's been absolutely fascinated by a video we found of the "Ma Nah Ma Na" song. Very old with Legs & Co doing a dance to it on TOTP (Top of the Pops). The girls were dressed as flowers with another girl dressed as a bee doing wriggly dancing. D loved it and watched it over and over (and over) again!
Caterpillar watch 🐛🌸🐛 – day 16:
We have 4 out of the 10 Freds going through that crystallisation process now. The ones in the left-hand jar are slightly ahead of the right-hand ones. Bizarre to watch, they can be still and then all of a sudden, there's this manic shaking going on! It's going to be very crowded when all 5 in each jar are up there!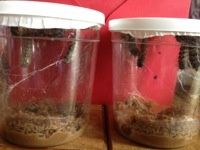 Thanks for all the new follows today, really appreciated. I hope everyone's had a good day, comments/RTs as ever welcomed, thanks for reading Jx 😘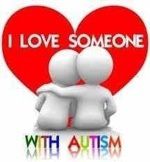 ---
---