It's been a really nice day today, didn't start off well though – D woke up with a very high temperature and due to her convulsion history, I decided to keep her off school, I'd have only spent the day worrying otherwise. She seemed a lot cooler by mid-morning so not sure what caused that, way too young for hot flushes!
T had an inset day so we had no school runs *yay*. The weather has been awful so it's been a case of "quick, the sun's out, go and have a bounce" and then "come in, it's raining" on and off all day.
D's been very relaxed this afternoon and evening, doing her drawing, writing her card for Fathers Day on Sunday and telling her brand of jokes – which are obscure but because she's laughing as she tells them, we do too because it's lovely when she's happy like this.
I know that there's been no pressures to do her walking (but she has been bouncing), no external factors to cause her anxiety and that she's happy in her environment, I wish acceptance was such that she'd feel this comfortable wherever we were (pipe dreams I know).
She decided today that when she grows up, she wants to be a wife and she wants to marry T so that she doesn't have to leave home (awww), she also wants a boy baby – not a girl baby as that would be too many in the house apparently! Who knows what the future holds but as long as she's happy for some of it, that's fine by me!
Caterpillar watch – day 15 🐛🌸🐛:
One of the caterpillars (Fred!) has started the process towards becoming a butterfly, I took two pictures today – a few hours apart – and you should be able to see how much he'd changed in those few hours. It's amazing, they start of tiny, grow enormous and then shrink back to start the butterfly process. The one to the right has also started, but in the early stages: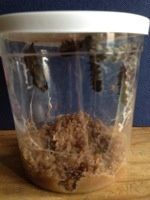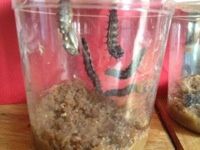 Thanks very much for the new follows today and the #ff, really grateful. The numbers on @patspetition are increasing too, so thank you if you have signed. Singularly we have small voices but if we get the required number of signatures, the powers that be HAVE to listen!
Political rant over! Comments/RTs as ever welcomed, thanks for reading Jx 😘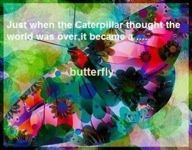 ---
---