D managed to walk 2/3 of the way to school again today, displaying her very poor road sense and taking it very sloooowly. I know this is doing her good muscle-wise but honestly, if someone is walking behind us, we have to stop until they have passed, she gets that anxious, even if they are 30 feet behind. So..the walk took some time, but she did it and I was very proud of her. Got to the classroom and there was a comment about us being later today and I thought, you can't have it both ways, if you expect her to walk the majority of the way, don't be surprised if we're a bit late with all her sensory issues.
Yes, I probably should have said this out loud and not thought it but, for D to do this is taking a lot of emotional effort for her and I have no choice if the OT support is to continue.
She does use her stress sponges on the way, clutching a sponge in one hand and Bunny (good old Bunny) in the other.
Anyway….happy, positive thoughts!
She came out delighted to see me at the end of the day, having chosen a sticker for doing her walking. The walk home was a lot easier because the ice-cream van was outside and the ice-cream seems to distract her whilst walking. She held onto my arm and enjoyed it. She did get very anxious a couple of times when people were behind us but we stopped to let them pass and then she relaxed again. Shorter walk as Hubbie was picking up T.
D has been obsessed with eggs tonight. One of her new "My Animal Farm" books is about eggs, cooking them, the process from egg to chick etc. I've had to cut out countless egg, hen and chick coming out of egg shapes from foam tonight. Not already drawn on, just using a foam sheet and a pair of scissors. She's delighted with them and they've disappeared into her bedroom, to be clutched as she sleeps tonight.
This is one of her pictures about eggs: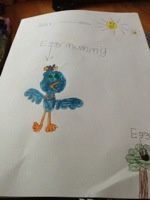 I love the writing and the detail.
Caterpillar watch – day 14 🐛🌸🐛:
Two of the caterpillars are starting the cocoon process – see picture – unfortunately when I lifted the jar to take the picture, I woke them up, cue a very cross D!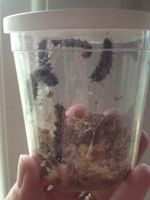 It's going to be busy in that jar when all five are hanging down! Once all ten (5 in each jar) are cocooned, I have to transfer them to the pop-up area for the next stage…butterfly time!
So, that's been our day, on the whole good. I hope everyone else has had a good day.
If you have a spare moment, please pop over to @patspetition, have a look at the link and sign the e-petition please? I'm sure there must be a Facebook page too.
Anyway, thanks for reading, comments/RTs as ever welcomed and very much appreciated Jx 😘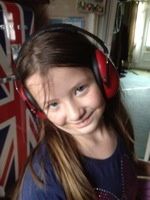 This is my lovely D – for new followers – you can't tell she has autism from this picture and this is why awareness, understanding and acceptance is so important. Please RT my posts and help x
---