Well, we tried the half walking/half buggy bit this morning and D followed it to the letter. I had said to her we'd walk such-and-such, then buggy to T's school, then walk across the field etc and she literally followed that, she has got the most amazing memory when she is focussed and receptive. In the end it was probably 1/3 buggy, 2/3 walking, clutching her stress reliever sponge. With no road sense though so I kept the walking bit to the extremely quiet roads where there were not likely to be cars or people. Of course, tomorrow might be completely different and I know I'm not going to force her to walk when it's raining and she could be dry in her buggy.
It did make me wonder though, there are so many children who arrive by either car or school buses – is their walking classified as walking into school? Or is D being singled out?
D did absolutely brilliantly until we got into the school grounds and then she got panicked – people around I guess – she wanted to bolt and I produced my "last resort" incentive, a chocolate coin! It worked. All the staff seemed very pleased with her first morning efforts and she was going to get a sticker and a house point.
There was a teenage pupil having a meltdown in reception as I was leaving – chairs thrown, walls kicked, staff hit. I didn't stop and look (no, definitely not) but it made me think it doesn't stop, or go away, I guess there are coping strategies that are taught but when it needs to happen, it happens.
When it came to the end of the school
day, they were late coming out so I had to go in and collect her. All the pupils and staff looked a bit frazzled and D later told me that one of her classmates had not wanted to leave the swimming pool so had done a lot of screaming. Explains the frazzled looks!
D was tired so we did 1/3 walking, 2/3 buggy.
She was absolutely delighted that some of her "My Animal Farm" subscription had come, she loves the animals and the books! T had a bit of a grump about that but he gets his Match mag weekly plus football stickers, whereas D's is every four weeks. Her new bits kept her occupied and in a very good mood for much of the afternoon and evening.
And she's settled, happily with her bits and pieces.
Butterfly watch – day 13 🐛🌸🐛:
Not sure if this is part of the process, but there's a lot of cobweb-like film in the jar, not sure if this is the start of the crystallisation process? They're definitely all huge now!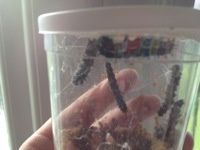 A very tired D has settled well. I'm
proud of her today.
Hope everyone's had a good day, thanks for reading, comments/RTs as ever welcomed Jx 😘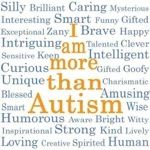 ---
---