D went in very well to school today, her wobbly tooth had come out during the evening and the "tooth fairy" had left her some money. She was eager to tell her Mon-Weds teacher about it and show her Thurs-Fri teacher the money – she was very clear that she was telling one & showing the other!
I had a meeting with the OT lady based at D's school today and confused is probably the best way to describe it. She started off by saying she thought that they had come as far as they could with D's handwriting (she's just turned 8!) and that they were considering enhancing her keyboard skills.
D does do a mixture of upper and lower case letters but does use punctuation appropriately. My response to her (OT) was that when D was first diagnosed we were given no expectations of reading or writing, so we were very pleased and looking positively at what she has achieved so far. She will write in cards and does do little notes at home but I guess they are looking at the broader picture. I know she doesn't enjoy doing her "news" sentences but presumed it was a combination of environment and her perceiving it as "hard work". Part of me felt she was being written off (no pun intended) in that respect.
She then moved onto D's buggy, she wants her to be less reliant on that and walk to school because it uses weight-bearing sensory skills and …a lot of terms were rattled off. I mentioned D's anxieties around being around other people and she then asked me if I was anxious around other people and maybe D was picking up on it (!) – my reply was my priority is getting D from
point A to point B and I couldn't give a stuff about people who stare at her!
So…we've compromised. Will use a pedometer for D and half buggy/half walking when she's not anxious and around people.
The OT also had very strong views about medication prescribed for ADHD etc and that the medication knocks out certain sensory awareness.
We did all agree that D was definitely calmer in the last couple of months, which is something.
The meeting finished at home time and D was already waiting outside with her TA. She saw me coming out of school, as opposed to walking up the path – change of routine and I'm always there early, waiting – she panicked and bolted! She did later say that she had been worried because I wasn't there. I hope in time she'll be able to say this sort of thing before bolting!
I've tried explaining to her that we're going to try this half walking thing from tomorrow – will stick to when it's quiet – so will have to see.
Butterfly watch – day 12 🐛🌸🐛:
Very little movement from the "Freds" tonight, I don't think the crystallisation process is too far away now. I've tried to take tonight's picture to emphasise the stripes and hairs on them. They were so tiny, they're huge now!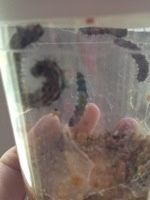 So..new changes from tomorrow morning, I hope they go well.
I hope everyone's had a good day, thanks for reading. Comments/RTs as ever welcomed Jx 😘
Tonight's end picture comes via Nicole, a lovely twitter lady, it's very true: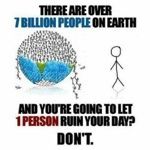 ---
---