After the anxieties of yesterday over going back to school today, you'd think this morning's journey would have been terrible, wouldn't you? Nope, I'm very pleased to say!
There was some anxiety when she got up but once she saw that I'd written in her book what she was anxious about (other children hitting her in the playground and doing her news) and the fact that my mobile number was at the front of the book, she calmed down. She was also one of the very few people happy that it was raining, because that meant indoor break-time and being away from the children that hit her.
As for the news aspect, I reminded her just before she went in about the "Freds" and she went in enthusiastically talking about them. 🐛👍🐛
She came out very happily this afternoon, chirping like a little bird!
There was a letter in her bag saying she's one of the 20 pupils selected from her school to go and see the Olympic Torch when it passes through nearby in July, very pleased for her but at the same time, nervous because it's going to be very busy. The staff ratio is 1:2 children so everything crossed that she enjoys the once-in-a-lifetime experience. One of the torch bearers is the mum of one of her classmates so not sure if that's who they'll see. D has no idea of the torch or its meaning so I'll prepare her with footage, pictures etc beforehand.
Butterfly watch – day 11: 🐛🌸🐛
All getting bigger, more seem to be migrating around the top area. When they arrived, they were tiny little things, definitely big hairy caterpillars now: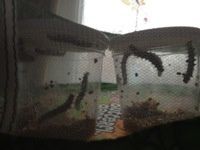 Tonight's picture is one D did of her & T, he is carrying her in the picture, very cute!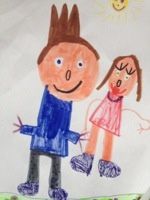 Hope everyone's had a good day, thanks very much for reading. I did a blog today on "Disability and hate crime" today too if you'd like a read of that. Comments/RTs as ever welcomed Jx 😘
---
---