D's hospital appointment at the Eye Clinic today, to check the "movement & tracking" of her eyes as she has a tendency to narrow her eyes when either watching TV or looking at the whiteboard at school.
The waiting room was mega mega busy, full of children running around with play food, playing with the train sets etc. There wasn't a quiet area where we could wait and I could see D visibly tensing up. Fortunately our waiting time wasn't too long but any positive vibes had decreased and she was very nervous.
The eye lady was lovely though, took us to a quiet cubicle and soon had D co-operating with the test, albeit very quietly.
The upshot is that D is going to be seen for a glasses test by an optician recommended by the hospital who deals with SN children. He has a very calm manner apparently and the practice is a nice environment too. The other alternative she suggested was eye drops but as it takes two of us to hold D down if she ever needs eye drops and it's just a very traumatic process for everyone, I think the potential glasses route is better. Hubbie wears glasses, two children in her class do and there are some pretty children's styles around. Appointment booked for first week of summer holidays.
As an incentive for having the appointment as the hospital I'd said that both T and D could choose a toy or book afterwards. They both choose books: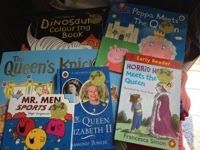 3 for 2 in Waterstones, never begrudge buying them books if they're going to enjoy them.
After lunch we popped into Mothercare to look at the toys and there was one of those funny mirrors in there that distorts your reflection. They both loved it: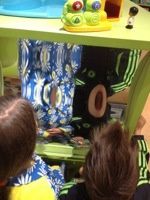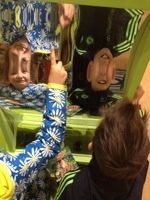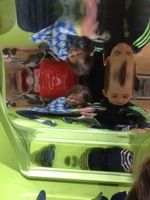 Butterfly watch – day 8:
The Freds have all been moving about quite a bit today, all getting bigger & hairer. I asked D if they're still going to be called Fred after they're butterflies and she wants them named after her. I can see that letting them go is going to be traumatic when the time comes!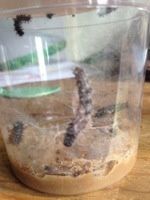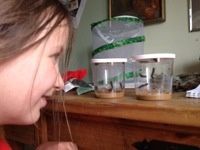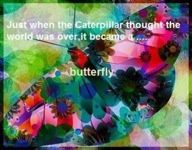 The last picture was sent to D by lovely Beverley, she loved it, thank you!
A very tired D settled early tonight, she's done well today with the numerous challenges of a busy town and the hospital appointment, none of which could have been achieved without her SN buggy though.
Hope everyone's had a good day, thanks for reading, comments/RTs as ever welcomed Jx 😘
---
---