D has found today quite challenging. I think it's partly due to the changed routine – it's Tuesday, no school and we're all at home – partly the sensory issues around – neighbours with their music and BBQs – and I've been continuing with a bit of decluttering – baby step by baby step.
She has helped a teeny bit with the latter today, we're sorting toys to donate to the Special Needs playground that she goes to both with school and with us (they're on twitter now, by the way – @tvapSN if you'd like to give them a follow I'm sure they'd appreciate it).
A lot of the time however she's had her ear defenders on and been walking – either round and round in a circle or up and down – it calms her.
A slight element of routine will be back tomorrow with Hubbie back at work and our day will be a bit more structured.
She did enjoy one aspect of the Jubilee on TV today, watching the beefeaters doing their hats-off salute to the Queen. It reminded her of seeing the soldiers marching at Windsor Castle, I've said we'll go and watch them in the summer holidays, probably combining with a Legoland trip.
As much as I would have loved for both D and T to have participated more in the many public events for the Jubilee, the sheer volume of people, the sensory-issues and the fact that she would have been in a SN buggy meant that we were happier watching snippets on TV. The implications if we had attended something and she'd bolted don't bear thinking about. Much safer at home.
Butterfly watch – day 5:
Here's today's picture. They're all growing and moving albeit very slooowly! If you look at the left hand jar at the top, we'd had caterpillar dodgem cars (or bumper cars) just before I took the picture! I'm going to try and get some toy magnifying glasses for T and D to observe them more closely: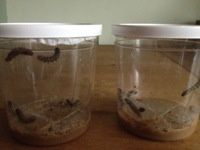 Tonight's picture is from the Weekend magazine on Saturday, I forgot to post it that day but I still like it: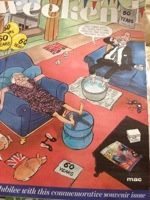 I hope everyone's had a good day. Thanks very much for reading. Please feel free to comment and RT if you are able too to raise a little more awareness of autism. Thank you Jx 😘
---
---