I'm writing this in between sneaking peeks at the Diamond Jubilee concert, I keep attempting to turn it over but then another hilarious tweet comes in!
I'll start with "butterfly watch" as I wasn't able to upload pictures yesterday, here are day 3 and day 4: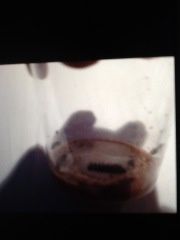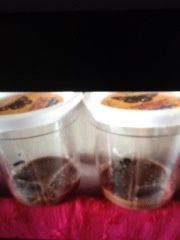 Not a great deal of navigation to the lid yet but at least they're all eating and growing. Hubbie has got in on the "Fred" bit, saying "look at Fred", "which Fred?" – D has named all ten of them Fred!
I've been trying to do a bit of de-cluttering today, our conservatory is currently our "junk" zone as C is in our loft conversion, trying to either charity shop, keep or dump. It's been a slow process because D has found it quite challenging – I guess it's the "I'm-not-at-school-and-it's-Monday", the "what's-all-this-stuff" and "stop-it-Mumma-I-need-you". All understandable, all good reasons to take it at a slow pace. I found some items that I'd completely forgotten about, lovely girls jeans, trousers and jumpers that someone had given me for D years ago. Things that just aren't suitable due to sensory and dexterity issues, will be appreciated by the charity shop I'm sure. Lots of toys too, stereo-typical gifts given over the years that were just glanced at, again going to homes where hopefully they'll be played with and appreciated. Sometimes I think people think I'm being fussy, specifying what I consider she'd like as a gift but the thought of someone spending their hard-earned money on something unsuitable just seems a waste to me. The joys of autism!
Issues with the de-cluttering aside, we've generally had a good day. D is still getting very excited when she sees TV shots of the Queen, saying "Elizabeth", I showed her the pictures from the paper of yesterday's events and it didn't really register with her (D), all the ceremony and pomp. Will have to see if there's a souvenir book, I'm sure there will be.
Speaking of the Queen, what an amazing lady….standing (all the time) for hours in the terrible weather yesterday, her husband in hospital and, at 86 years old – when she really should be either tucked up warm somewhere or relaxing in front of the TV – she's at an open-air concert! Dedication..
Tonight's final picture was going to be yesterday's but it's still topical: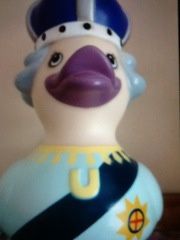 One of D's bath ducks!
Thanks for reading, comments/RTs as ever welcomed Jx 😘
---
---